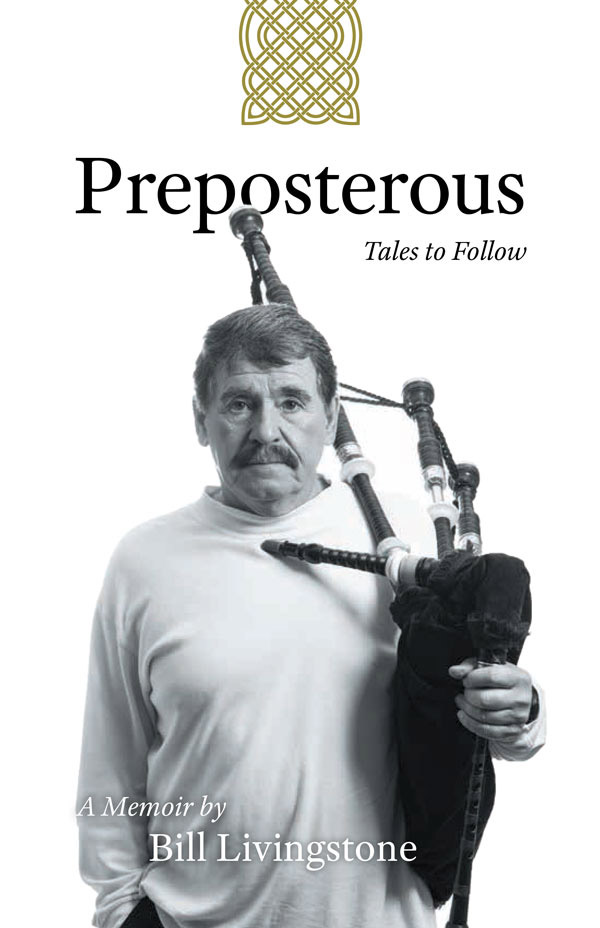 Meaghan Lyons, the publicist for Bill Livingstone's book of memoirs, has sent this: 
'Bill Livingstone is delighted to confirm McCallum Bagpipes Ltd as sponsor of a very special celebration of Preposterous: Tales to Follow, Bill' soon-to-be-released memoirs. The event will take place on Thursday, 10th August 2017, 4.30 – 5.30pm, at the National Piping Centre and will be hosted by Stuart Liddell.
'The hour-long event will include a reading of selected passages from Preposterous: Tales to Follow by Bill, followed by a Q&A session with the audience.
'"We are proud to support Bill for this special event. McCallum's has a long history of investing in piping and drumming's biggest trailblazers and we wish Bill every success in his latest venture."
'"Bill is one of the greats of bagpiping in the modern era," said host Stuart Liddell. "I am delighted to be involved in this once-in-a-lifetime event and look forward to seeing everyone in Glasgow."
---
[wds id="2″]
---
'"McCallum Bagpipes has been a dedicated supporter of my projects over the years and those of so many others. I am honoured to be working with them again." said Bill Livingstone. "I am also delighted to have Stuart Liddell on board as host of the celebration. Stuart will bring an unparalleled level of warmth, humour and fun to this special event."
'Hard and softcover copies of the book will be available for sale at the event. To avoid disappointment and ensure a copy of the book is waiting for you on the day, advance sales of Preposterous: Tales to Follow are now open on the National Piping Centre's online shop at http://www.thebagpipeshop.co.uk/ Advance orders must be submitted by Friday, 21st July 2017.
'Preposterous: Tales to Follow will be available for sale online, in hard and softcover, at all major book retailers from 1st August 2017. A publicity campaign celebrating the release of Bill's memoirs will roll out over the coming weeks. Go to Bill's official Facebook page @williamjrlivingstone and www.williamlivingstone.com for all the latest news and updates. Stay tuned for more special announcements!'
---