The following article appeared in Pipe Band Magazine in 2000. It is by Highland Dress expert Bill Blacklaw formerly of the Gordon Highlanders. Much of Mr Blacklaw's advice is still relevant today. The picture above shows P/M Alan Bevan and the Simon Fraser University Pipe Band from Canada with a front line from a few years ago. Notice the correct length of kilt, polished brogues (properly tied) and the glengarries worn correctly….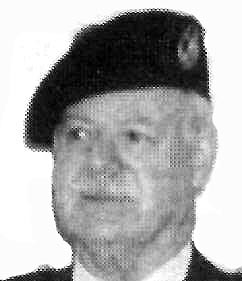 WHEN competing in Pipe Band Championships where there are competitions for marching and discipline, bands seldom hear any­thing other than who the prizewinners were. Little wonder then, that bands go from year to year showing the same faults, probably not even knowing that they are making mistakes and therefore not showing any improvement.
After two years of judging this competi­tion at the North of Scotland Championships, I have to say that no more than two or three bands are ever in con­tention and that, outwith that small group, standards are pretty appalling. Let me say that this criticism extends right across the grades from novice to the highest grades.
Other judges may look for different or additional points, but here are the factors I took into consideration in allocating marks at a recent contest:
MARCH ON
I start judging when the band is in posi­tion at the start line, although using the approach to evaluate general appear­ance, smartness and overall dress points. Getting to the ready position whether by taps from the drum corps or by word of command, is very sloppy in many bands. I don't look for military drill standards but I do expect smart, economical and unified movements. I was also appalled to see several pipe majors, AFTER the band was in the ready position, go walk-about among the band. This cost several bands marks.
'The appearance of a band is inextricably connected to its marching and disci­pline…..
Starts and stops were generally of a standard ranging from acceptable to very good, and most bands, even at novice level, had obviously practised this. Marching forward brought about sever­al problems with dressing. From front to rear dressing was usually good but across the ranks it left a lot to be desired. Forming the circle showed possibly the widest range of standards. In my playing days, we were always taught that we should form circle in the most unobtru­sive way possible.
If you could leave spec­tators wondering how the band had got into a circle almost without them noticing, you had done a good Job. One or two bands made almost a production issue of this movement with some pipers actually backing into place. Marking time and halting was usually quite well done and had obviously been practised although ideas of how one should mark time varied considerably. Coming out of the circle, where bands opted to play off, was generally much smoother-perhaps it was relief that the competition was over!


GENERAL POINTS
One reason for the poor dressing during marching is poor posture. This applies equally to drummers and pipers. Whichever instrument you play, if you are hunched up with your head down, you can't see whether you are in formation or not. Remember that disci­pline marks are given not for a smart front rank of pipers but for the whole band. I look for a synchronisation of movement flowing through both drum corps and pipe corps. A couple of bands only have shown this over the last two years and their standards have been gratifyingly high.
Dress: The appearance of a band is inextricably connected to its marching and disci­pline. The top bands in this competition showed a very high standard of dress with neat, well-fitting jackets, kilts that looked like kilts and not ball gowns, hose at the appropriate height, equal on both legs, shoelaces neatly tied and not making hose look like fishnet tights and, last but not least, correctly worn and properly fitting glengarries.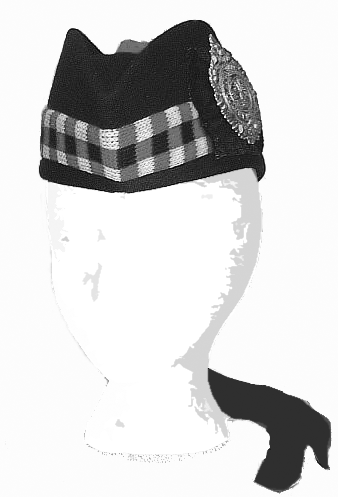 Among the lower-marked hands the main faults were:
Headgear – Appallingly fitting and sloppily worn glengarries. Surely every band has someone with a little military experi­ence who can ensure that their members have glengarries that fit them and show them how to wear them acceptably [an inch above the eyebrows].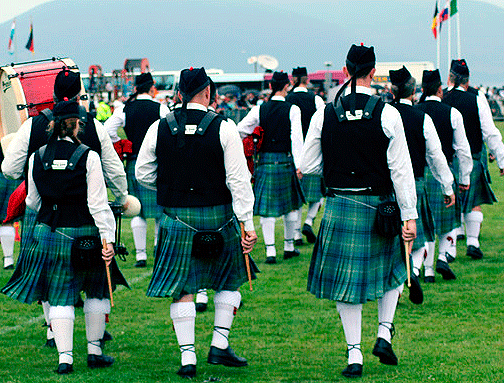 Kilt length and hose height – Nothing looks worse than overlong kilts and hose so high that knees are not seen. If people wore the kilt in all kinds of weather, especially wet and freezing, the kilt would quickly be raised to the cor­rect level to avoid lacerating the back of the knees. I know this seems a small point in a Marching and Discipline com­petition, but remember that first impres­sions are often decisive and a band that impresses itself visually on the judge on its appearance is already away ahead of the untidy long-kilt brigade.
Please, everyone, drummers and piper, DON'T compete with faces like fiddles. I couldn't believe the expressions of utter boredom and lack of enthusiasm on the faces of some of the bands. Some of them were giving quite acceptable even good performances, but you can imagine the effect they were having on the judges, and even more so on the spectators. A smile costs nothing and for drummers it is easy to show. Even for pipers with a blowpipe in their mouth, happy expression is easy to achieve. A least try to give the impression that you are enjoying yourself. It could work wonders with the judges.