Carnegie Mellon University launched a worldwide search for a leading drumming/percussionist last summer and have now completed the appointment. Professor of Music at the university, Andrew Carlisle has sent this:

'Carnegie Mellon University is pleased to announce that the new Drumming Instructor for its Pipes and Drums is Dr. Richard Baughman. Richard, who has been based in Los Angeles, CA, for several years, makes the two and a half thousand mile relocation to Pittsburgh, PA to accept the position.
'Originally from Ft. Wayne, IN, Richard is a graduate from The Julliard School, NY, received his Masters from Mannes College of Music, NY, and earned his doctorate in percussion performance from The University of Southern California.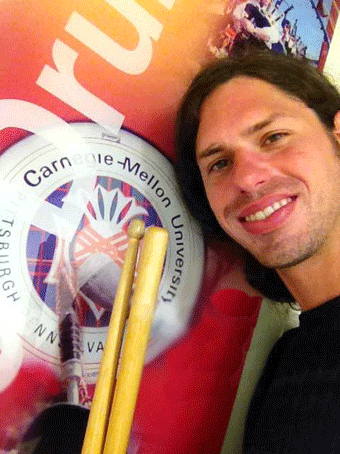 'Richard has enjoyed considerable success as a soloist and also as a pipe band drummer: He was the first American 'fly-in' player with Shotts and Dykehead Caledonia in 2006 and was the leading drummer of Los Angeles Scottish from 2007-2010. He has also performed with Spirit of Scotland, Toronto Police, 78th Highlanders (Halifax Citadel), and most recently North Stratton, Edmonton, Alberta. In addition to being a world-renowned percussionist, Richard is also an avid pianist and is also a keen piper. He also developed the Perfect Practice Pad™, which is currently used by many of the world's leading drum corps.
'I am delighted to welcome Dr. Richard Baughman to Carnegie Mellon and to Pittsburgh. In his first days in the position, Richard has already established an excellent rapport with the students, and has demonstrated an infectious enthusiasm whilst conducting lessons and rehearsals. I am looking forward to working with Richard and have no doubt that he will be an asset to the University and to the band.
'The creation of this new drumming position is a huge step forward by the University and we are thrilled to have secured somebody as qualified as Richard for the role. For many years, Carnegie Mellon has invested in esteemed piping instructors, for example, my predecessors Jimmy McIntosh MBE and the late Alasdair Gillies. It therefore makes sense that the University is now recognizing that we need to invest in a proven drumming instructor with the background and experience leading a top-quality corps that will help our band continue to grow. I am excited that Carnegie Mellon is now investing in a more substantive drumming instructor position that can provide talent, leadership, time and dedication to the band.
'Richard will be providing regular individual instruction to the student drummers, directing the drum corps during practices, performances, and competitions, and will take on a leadership role in building a cohesive and talented drum corps.'
Richard Baughman said: 'It is my pleasure to have been appointed the Drumming Instructor for Carnegie Mellon University. This is pretty much a dream job for any pipe band obsessed drummer which has been my case since I can remember. This is an amazing opportunity to work with the wonderfully gifted and sophisticated Andrew Carlisle who has taken the piping program in a superb direction. The students he attracts are talented, smart, driven, and have bright futures in their careers. My work has just started and all support and enthusiasm from Director Andrew Carlisle and Dean Gina Casalegno is greatly appreciated. I am looking forward to a fantastic future at Carnegie Mellon and am excited to hear what will come from the Carnegie Mellon University Pipes and Drums.'
• Check out more on drumming in our Drummer's Call column.
---
[wds id="3″]