It seems that most people are of the opinion that having the bulk of the major pipe band championships in and around Glasgow is a good thing. The majority of those who took part in our poll were in favour. However there was a significant group who felt that these important championships should be spread around more, and 20% believed Ireland should have the opportunity of staging the Worlds. Here's how you polled:

One thing is clear: the RSPBA cannot please everyone. And we should all bear in mind that the Association's currently strong financial position is due to its shrewd negotiating with the various local authorities who bid for these events. (I say strong because the accounts are public; they can be examined in detail in the order papers for the Association's AGMs). That said, it is not just about money. I know that the Board of Directors of the Association want to do the best by their member bands at all times. (As Editor of Pipe Band Magazine I talk to them frequently.)
This means they do not necessarily accept an offer from the highest bidder. If they feel the facilities are not right for a pipe band competition the contract will not be signed. This could be because the coach parking won't work, there are insufficient tuning areas, or arenas may too close together.  Of course there are unforeseen difficulties that arise on the field but this is no different than in any other walk of life, is it?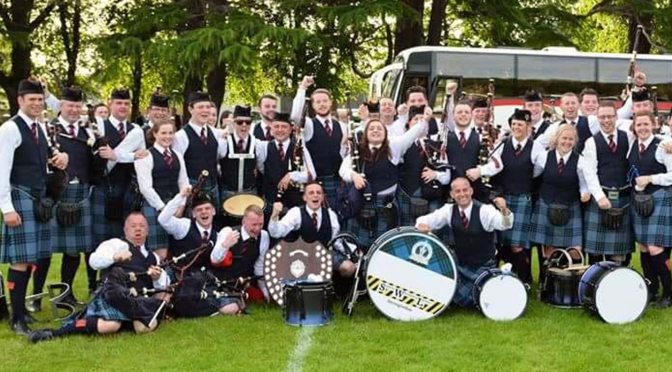 Our poll was launched shortly after we ran the  story about the first major of 2016, the British Championships, being at Paisley next May. The band pictured above celebrating are Johnstone under P/M Keith Bowes, the current Grade 2 World Champions. Paisley will be very much a local gig for them, situated as they are only a few miles away from the contest area at St James Playing Fields. They should be guaranteed a fair degree of local support on the day.
---
Patricia Grant is awaiting the results of Sunday's Roseneath piping before she can complete her Scottish Highland Games Champions list for 2015. At the moment it shows Gordon McCready winning both Piob and Light Music.
As I've said before, it would help the games circuit if this league were split into regions with a separate champion declared in each. It would mean better attendance at the smaller games I'm sure. Patricia writes: 'Well I am almost there.  Please find attached the league as far as I can go.  I apologise that it is a spread sheet but with 78 pipers listed I do not know how else to do this. Please could the CPA send the list out to your members so that any mistakes can be rectified.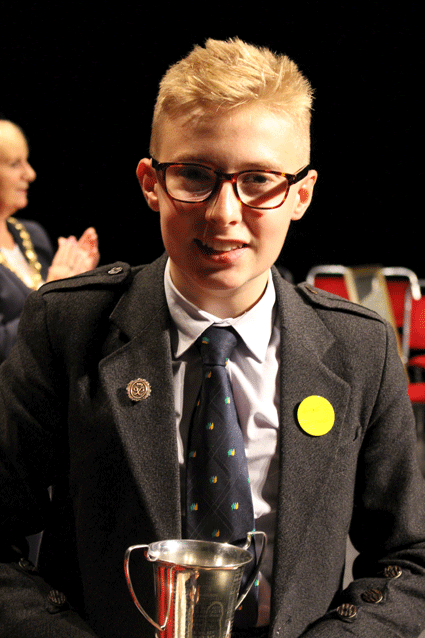 'I tried to do a Junior League but the difficulty in getting results was too much.   Hopefully next year; however I would ask any piper to send me results of any Games that you participate in.  Every little helps. This year I spoke to some judges and it was decided that there will be two trophies awarded for the best junior pipers; in their opinions this will be Callum Brown for the piobaireachd and Robbie MacIssac for light music.'
SHGA Piping League 2015
---
To Glasgow Caledonian University tomorrow for the World Solo Drumming where all eyes will be on Steven McWhirter of Inveraray & District to see if he can make it five titles in a row in the Adult  section. Listen to Steven and his P/M Stuart Liddell at last year's contest with their winning MSR on the PP Audio Archive. Don't know about the drumming but the piping's brilliant.
Pushing Steven hard are bound to be the drummers from St Laurence O'Toole from Ireland, in particular leading tip Stephen Creighton and All-Ireland Champion Michael McKenna. Both were highly placed last year as this table shows: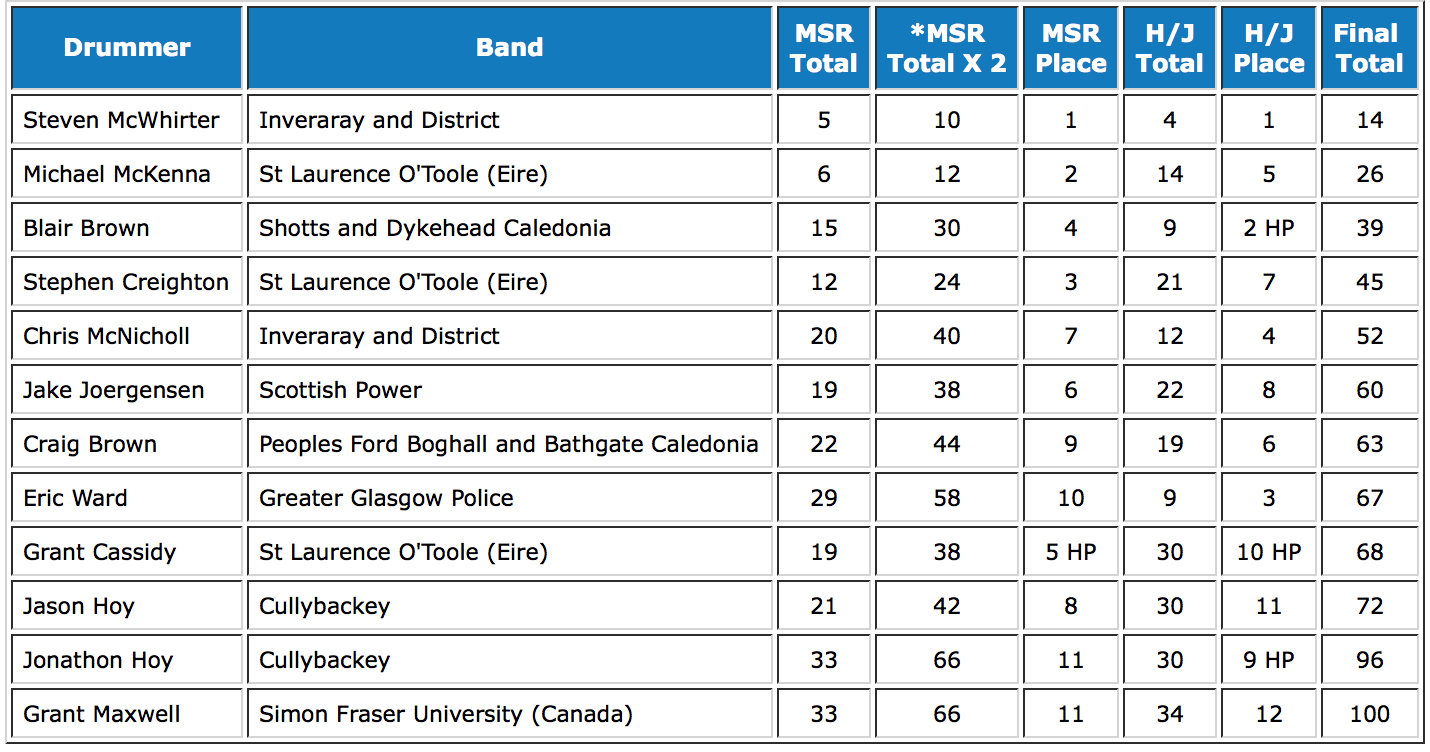 Of course any of the above could do well. They must all be superb practitioners of the art. Steven is from Northern Ireland so there must be something in the water in the Emerald Isle that is good for the wrists. By all accounts SLoT are the outstanding drum corps of the moment. They are the current World Champion and Champion of Champion corps. Leading tip Stephen Creighton is pictured below with the C of C trophy, handsome it is too. Check the RSPBA website or Twitter feed for the WSD results as they are announced.
There is a lot of talk about the wisdom of awarding a separate drumming prize in pipe band contests. I have no problem with it but can see difficulties when a corps is assessed in isolation. Provided their work is judged within the context of the band and the suitability of their contribution to it, there can be nothing wrong with a separate award for drumming.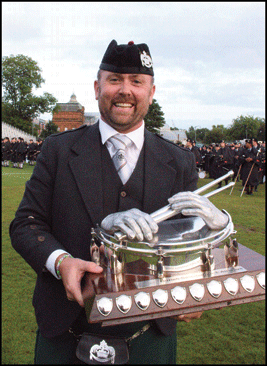 ---
[wds id="19″]