By Robert Wallace
Another successful Argyllshire Gathering concluded yesterday as you will have read, and plans are already underway for next year's gathering. The weather was particularly unkind on Games Day (though it brightened up later), but it could not lessen the light in the eye of the new Gold Medallist, John Angus Smith.
In a short interview he told Piping Press: 'It feels fantastic to have won the Gold Medal. It has been the achievement of a lifetime for me. I still can't believe it.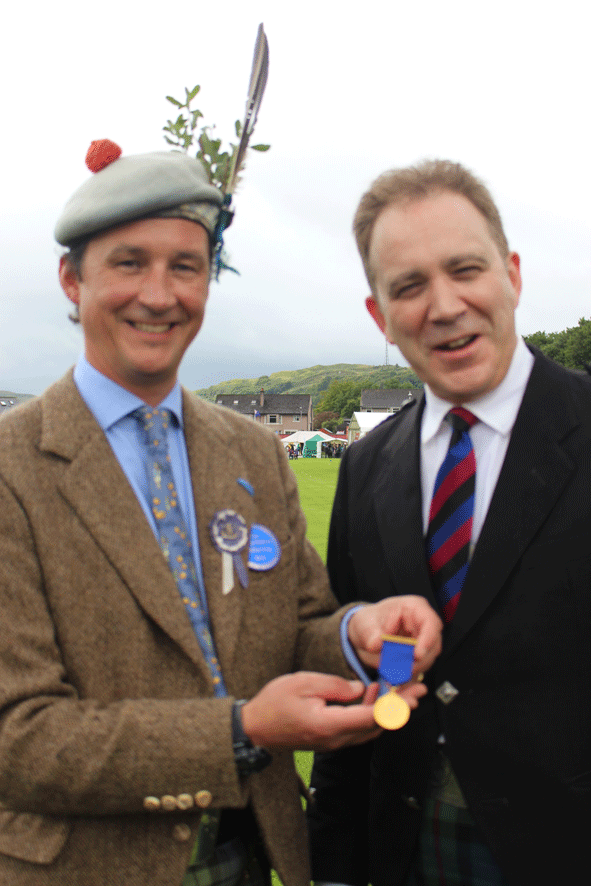 'I won the Silver Medal in 1994 with Corrienessan's Salute, so for 21 years I have been trying for the Gold. I've had prizes in it before, a third and two fifths.
'At times I thought it was going to pass me by. I was getting to that stage where I was wondering whether I was ever going to get it, and when you have been playing and competing all your life and you start to think about it in that way it means a great deal to actually finally get it. I am just over the moon.
'As to the performance, the pipes were great. Some years I've come here and the pipes have let me down, other years I've played well and it's not been quite there. This year I felt I played very, very well. I was just delighted and the pipe held. I felt good; I felt the tune was at a nice tempo [Lament for Donald Duaghal MacKay] and I was singing away in my head  as I went through trying to get the music out.'
John Angus is based in London, though his family hails from South Uist. He has always been involved with the Scottish Piping Society of London, is the Piping Convenor of the Uist & Barra Association Professional Piping Competition and is a past President of the Competing Pipers' Association. His tutors include P/M Alex MacDonald, London, Ronald Morrison and Robert Wallace. His other piping awards include the Silver Medal and the Gillies Cup, London, and many other important trophies and medals.
These awards accepted, the greatest day in his piping life came yesterday when he led 25 pipers in the march to the Games as Pipe Major and new Argyllshire Gathering Gold Medallist. Here's a short clip:
Stay tuned to Piping Press for a more detailed look at the overall Gold Medal contest.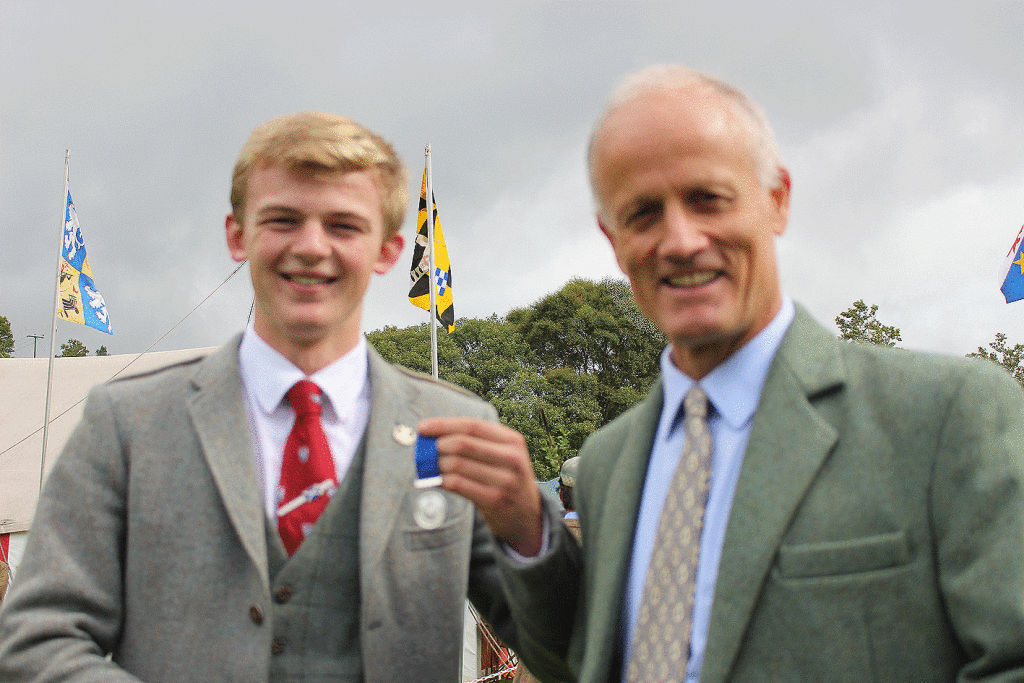 In the video, and the pictured up top, John Angus is flanked by the new Silver Medallist, Sandy Cameron. Judges in that event reported his performance as 'absolutely outstanding' for such a young piper. 'Full of maturity of expression, complimented with technical excellence and a superb bagpipe,' said one. Sandy's win completed a marvellous summer for him. In his final year at Dollar Academy his school pipe band was proclaimed Juvenile World Champions. He now goes on to study at university.
The Senior Piobaireachd was won by Stuart Liddell and the judges there reported  a lot of safe playing, though the prizewinners all played well. The contest was longer than usual, with all the big MacCrimmon tunes on offer, a real feast for the piobaireachd lover – a feast that will be repeated in the Clasp competition at Inverness next week.
The junior piobaireachd event, the MacGregor Memorial, was won by Charles MacDonald from Inverness. Charles showed a lot of maturity in putting together two first class tunes in the End of the Great Bridge and the Old Men of the Shells. In the latter he was rather snappy with variation 2, but otherwise this was attractive ceol mor. Second went to John Dew with a good Lachlan MacNeill Campbell of Kintarbert. He lacked the colour and shading Charles brought to his tune, but this is a very promising piper indeed; technically able and capable of producing a nicely set pipe on the big occasion.
Third went to Callum Watson with Hector Maclean's Warning: good bold playing with the ground just lacking a little poise, and fourth to Ross Miller with MacLeod of Raasay – straight, safe playing on a good pipe.
---
[wds id="16″]