Field Marshal Montgomery PB won their second successive major championship of the 2015 season when they placed first in a high calibre Grade 1 contest held in the beautiful grounds of Stormont Castle, Belfast. No need for cushioned brogues on this luscious sward.
Second prize went to a revitalised Shotts & Dykehead under P/M Ryan Canning, who more than justified the favourable comments on Piping Press that followed their success at the British at Bathgate. This performance must have been a source of great satisfaction for P/M Canning and L/D Jim Kilpatrick. One of the world's iconic pipe bands is back – make no mistake.
Third were Inveraray and fourth St Laurence O'Toole. Also making the list were Greater Glasgow Police and Boghall. The drumming prize went L/D Eric Ward of Greater Glasgow, proving that his success at Bathgate was no flash in the pan. This corps is cooking. In Grade 2 there was significant progress for Johnstone Pipe Band under new pipe major Keith Bowes, but they were edged down to third by the powerful Bleary and District and the consistent Buchan Peterson.
This was a significant prize for P/M Bowes. I managed to hear his band and Glasgow Skye before going over to the Grade 1 arena. Johnstone played John MacDonald of Glencoe, complete with the unmusical cut from D instead of the doubling at the ends of the parts. Susan Macleod and the Smith of Chilliechassie were competent but a shade slow – playing for a prize not for first. But as I say, this is a young pipe major and he can be forgiven for feeling his way. Fine drone sound. Skye played musically but lacked cohesion; more practice chanter work needed to establish the beat notes and phrases.
The judges talked of a high standard in the Novice Juvenile arena where the worthy winners were Stirling Schools. Double celebrations up Wallace Monument way when Grade 4b went to Royal Burgh of Stirling.
Over 100 bands entered the contest, but it is crying out for some sponsorship from the ferry companies so that more bands from Scotland can afford to travel. It would have to work both ways of course – Irish bands already spend a fortune getting to the other majors.
First on in Grade 1 were Fife Police who had had their run re-scheduled to fit in with their travel arrangements. They played very well, though the jigs needed a lift. Fingering of high order and clean breaks. Tramping along nicely in reels at end.
St Laurence O'Toole were next and they had that little more power in their sound, a sound that marked them out as top three contenders. So too did their playing – full of panache and spirit. More than anything there was a consistency in melodic content from start to finish – a very entertaining seven minutes of pipe band music.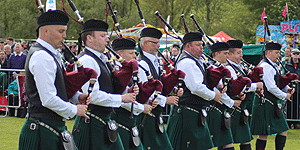 Culleybackey again struggled with sound. It was obvious from the start that they just did not have the quality in the chanters. From a thin start, the top hand thinned even more as the performance progressed. I thought, too, that the reels at the end were of dubious quality. This is usually a listenable band but they must get their tone sorted for Forres.
No such problems for Stuart Liddell's Inveraray and District. Volume, clarity, accuracy – their chanters had it all. The bass drum was booming away at the start but he seemed to quieten down as the medley progressed – maybe he got the evil eye from someone. All the fingering was super precise. Content? Perhaps a bit of over-complication here and there, especially at the end where I felt the main melodic line was obscured. This may have been a result of where I was standing,  WSW of the P/M.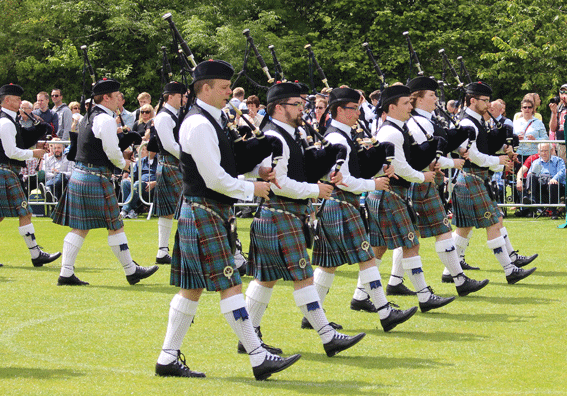 Boghall were next. I felt their top hand was wavering on high A and F and this was more noticeable after Inveraray's broader sound. All breaks and fingering were of good order and the music was pleasant enough, but no matter how well you play the instrument has to have that ringing quality if you are going to challenge the top three.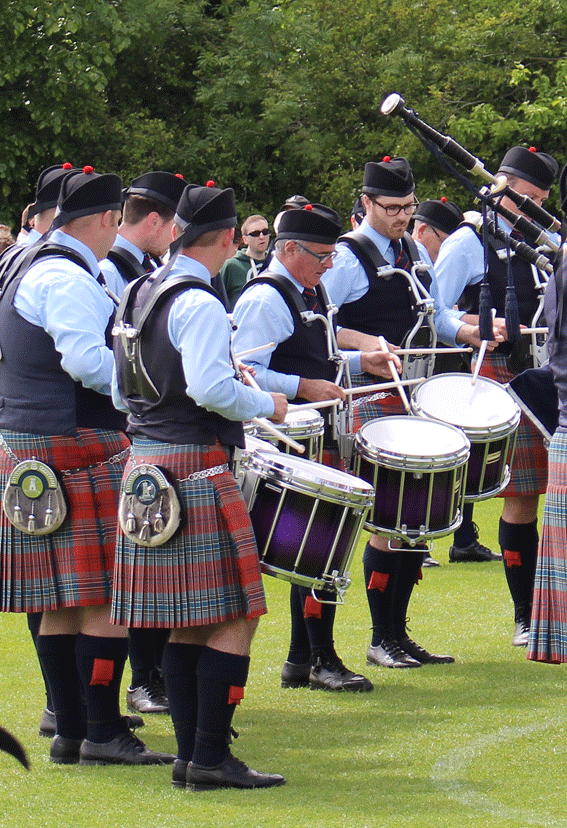 On came Shotts & Dykehead and they had that ringing quality  alright – and precision technique, pin sharp breaks and perfect tempi as well. As to content, I am not sure about the opening tune. I always consider this to be the opportunity for a band to make its audience sit up and behave themselves. A bit like an overture at an opera. You need some impact. Shotts certainly had that with their sound but this march, 'The Octagon' says the programme, left me a little cold. Once it was out of the way they completed their work in supremely confident manner. This band is back – and in a big way. Serious contenders.
The Vale of Atholl's medley did nothing for me I'm afraid. They could have had the finest sound in the history of pipe bands, but these tunes did not catch my ear at all. Would they  grow on you with more of a listen? Bands don't have that luxury, with only 5-7 minutes to impress. Others will have a different view, but the muted reaction from the audience at the end told its own story.
Greater Glasgow Police gave us a medley of two halves. The first pedestrian, with a weak opener, the second full of good melody and interest. I liked the way they accelerated into their reels – not easy to do without losing unison. Their sound deteriorated a fraction towards the end, but by then we were all tapping a long with the playing, unconcerned at a minor discrepancy.
Another band whose melodic line was sometimes obscured was Scottish Power. This was particularly noticeable in their slow air where the lovely high G – the quietest note on the chanter – could hardly be heard at times even though it carried the tune. Again it could have been because of where I was standing. I thought the pipe corps played very well but there may have been ensemble disjoints between pipes and drums.
On came the brilliant musical machine that is Field Marshal Montgomery, the local heroes. The buzz in the crowd was palpable. The band did not disappoint. Never a gracenote out of place, never a hint of indecision at any of the breaks. Tone? I thought the drones a shade out to begin, but by the time the slow air was reached the pipes reached their full majesty. Cupping my hands behind the ears, a cascade of sound came at me like a full-blown church organ, rich, deep, satisfying. Content, melodic value? Mmm… Have a listen to their opening tune:
Denny had a nice sprightly start with good impact from their opener. They maintained their confidence into the jigs. The tone began to weaken in the strathspeys, but they ended well and overall this was a good performance from a band that deserves its place in Grade 1 – though I think they are more comfortable in the medley than the MSR at the moment.
In the final analysis there were, for me, four bands in contention for first: Inveraray, St Laurence, Field Marshal and Shotts. They were all so good that it really was impossible to split them other than by personal preference: who caught the ear, who entertained, whose music impressed.  On that analysis my list was:
1 St Laurence O'Toole
2 Field Marshal
3 Shotts
4 Inveraray
Glasgow Police and Boghall were worthy of the other places, but a word for Fife and the Power who on another day could have got the shout. Full results at www.rspba.org.
---
[wds id="11″]