Callum Beaumont, one of Scotland's top young pipers, has moved to a new job as part-time piping instructor at Dollar Academy in Clackmannanshire. He is also launching his own piping company 'Callum Beaumont Piping' and plans to teach and conduct workshops worldwide. Dollar Academy have one of the country's top juvenile bands and are the current World Champions.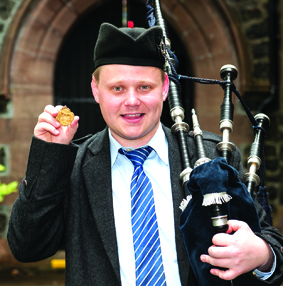 Callum (25) previously worked at the National Piping Centre and taught for them at schools in east Fife.
Calum said: 'It has been something that I have been considering for the last year or two. I was very fortunate to land a part time piping instructor position at Dollar Academy around a month ago, so felt like this was the best time for me to go for it. I also feel this gives me the opportunity to work on other interests and explore other ideas that I have for my piping.
'I really enjoyed my time at the Piping Centre over the last six years and gained great experience and met many good friends.'
In his short career Callum has garnered an impressive list of awards including both Gold Medals, the Clasp at Inverness, the Clasp and Dunvegan Medal at Portree and the Silver Chanter
In the bands he has played with Shotts, Scottish Power, Inveraray and Simon Fraser University.
He was taught originally by Bert Smith in his home town of Bo'ness and is now a student of Willie McCallum. Calum is planning to release a recording next year.
[easyrotator]erc_75_1413484305[/easyrotator]