The first remark I must make is to congratulate the bands that made the final of this enthralling championship. You are the top 12 pipe bands in the world and no one can take that away from you. This will mean more to those who did not make the top six of course, but it is true nevertheless and an achievement to be proud of.
I know the hard work and agony that goes in to producing the level of performance we mere listeners were able to enjoy last Saturday, the detail in the technique, the minutiae to be ironed out in the marrying of drums to pipes, the harmonies, the tenor beatings. The level of professionalism was something to behold.
That is why it galls me so much to see the way these musicians form into a huddle when they play together, drones first, backs to the audience.  I would like the Music Board of the Association to offer Grade 1 bands the option of playing in an open circle the way I and others have recommended, with judges continuing to operate as they do at the moment should they so wish. For although we have come a long way in the last ten years in the presentation of our music, the journey must continue if pipes and drums are to be given parity of esteem with other  musical ensembles. I do not wish to labour the above, but to me the open circle is a natural progression, the next leap forward if you like and well supported by those who took part in our poll.
Listening to the entire contest last Saturday I was able to observe the judges and how some of them moved round the bands. I would agree with Alistair Aitken's comment yesterday on this point. I may need to be corrected, but I am sure I saw one ensemble judge on one occasion actually standing behind the drummers. I hope I am wrong.
However let me say this, I think that collectively the adjudicators did a first class job in difficult circumstances; their deliberations led to the correct six bands taking the top six places. We can argue all day about who should have placed fourth or fifth or first and second, but there can be no dispute on who were the top half-dozen. In that, the judges were spot on.
Alistair noted that some adjudicators were very close to the players; diligence and a determination not to miss a trick on this most important of days will have been part of the reason, but at no time did any transgress the outer circle (see pic top). And there was a considerable amount of extraneous noise that could be heard in the arena from bands playing on the hill below the Trafalgar monument. I don't know if anything can be done about this. Personally I would site the hospitality tent at right angles to where it is at the moment and so provide a windbreak for the bands. I would then build a third bank of seating where the standing area is at the moment. Apart from the first few rows, it must have been impossible for those crammed in there to hear anything worthwhile; 40-odd deep it was.[wds id="14″]
The livestreaming by the BBC is a wonderful innovation for those outwith travelling distance of Glasgow Green, but we do not want to get into a situation where it is better to sit at home in Milngavie or Motherwell watching on screen, rather than out in the fresh air listening and watching at first hand. As we all know, there is no substitute for live music. Two tiers of ticketing needed, one that gets you into the ground and a seat for Grade 1, and another cheaper one for the ground and the other grades.
It was pleasing to hear that most bands have got the message on melody though many persist with stuff that is best forgotten. As one noted expert said to me, you cannot harmonise a non-melody and hope things will improve; but a good tune with tasteful seconds and thirds can lift a medley into the heavens.
On the MSRs it is time we did something to introduce variety. The empty spaces in the stands for this leg told their own story. People are fed – up hearing Highland Wedding, Lord Alexander Kennedy etc. over and over again. There are dozens of good 2/4s of a suitable standard for Grade 1 bands waiting to be heard. Other than prescribed lists, however, I can't think of a way we can effect this necessary change. Anyone any ideas?
My notes now, and I will mention each band in the order they played and comment on both disciplines. Please bear in mind that I am up in the stand with the above mentioned extra-arena noise and a cold, blustery wind for most of the contest to contend with.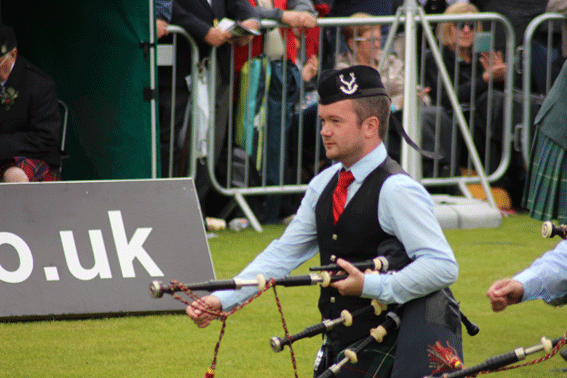 78th Highlanders, Halifax
MSR: Tempo down in march producing a draggy feel; too careful with strathspey, lacking lift; good break to reel; good fingering throughout but a brighter tempo would work wonders.
Med: Again lassitude pervades; playing in a comfort zone rather than on the edge; everything well played but tempi need to be up. A wonderful achievement for young P/M Alex Gandy to lead a band to the Worlds top twelve at his age.
Dowco Triumph St
MSR: Needed a bit more pointing and phrasing in march; technique came strongly through in strath. High A suspect to end and drones drifting in the cold wind.
Med: A very positive start with a fine sound; losing me in second jig – seconds couldn't save it; sound sustained well through slow air; straths. crisp and lively; real Grade 1 tempi to end; impressive stuff.[wds id="9″]
Scottish Power
MSR: The march Edinburgh Police came across well but could have been pointed more; superb fingering in Blair Drummond; overlong break to reel loses impact at this crucial juncture in performance; lovely playing thereafter; prizewinner.
Med: Lovely sound, sweet and projecting well; fingering in jigs top drawer; band on form; well-controlled and expressed slow air; thoroughly entertaining set.
Inveraray
MSR: Drums intruding at times (wind?); well played M; is the high A broad enough?; outstanding fingering and expression in strathspey; nice reel but were they on the edge enough tempo-wise to challenge?
Med: Fine sound; high A better but not perfect; could have gone for it more; classy control however; outstanding work in slow air; strong finish just needing a jag to the tempo; prizewinner.
Glasgow Police
MSR: Nicely expressed M; high A?; is this cold wind tightening up the reeds?; strathspey seems held back; tasteful bass and tenor work throughout, particularly in reel; reel better than strath.
Med: Set only came alive from slow air onwards; opener went on too long; good break and lift to straths; going for it in reels; clever the way the slow air was reprised; medley of two halves.
Boghall & Bathgate
MSR: Top hand thin; drying wind; well enough played set but chanters not projecting; good, solid playing throughout; good breaks; tone indifferent, though side drums snarey and pleasant on the ear.
Med: P/M Ross Walker's last time in charge and his band didn't let him down; first class playing throughout, only the tone questionable; the Boggies will be back and all good wishes to new P/M Ross Harvey.
St Laurence O'Toole
MSR: Superb sound; drums piercing through at times; fingering in strath. not as precise as in M; safe if not spectacular reel; rock solid tone.
Med: Brilliant tone; jigs rattling along – this is how they should be played; breaks impossible to better; exciting playing and not a bad tune to be heard; title contenders.
Field Marshal Montgomery
MSR: Beautiful, solid sound; best so far; superb playing throughout; phrasing in M particularly impressive; title contenders.
Med: Beautiful tone: perfect balance of drones to chanters; thoroughly impressive playing; fingering in mazurka a model of perfection. Content? Not up there with the best FM medleys.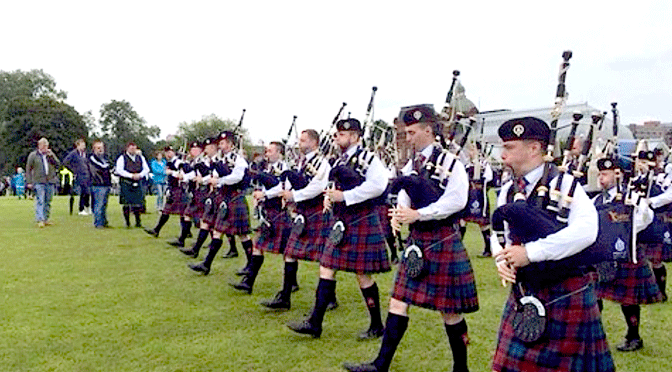 Fife Police
MSR: Good sound; Brig. Cheape one of the best marches of the day; fell away a bit thereafter with blowing and unison suffering; fingerwork in strath. rough in patches; pipes faded a shade in reel.
Med: Tone again good, nice low G; does the opener go on too long?; strathspey fingerwork again  indistinct here and there; 'thunder' over done by drums in slow air; drones solid and good bridge to jigs if a little overlong; strong finish.
Canterbury Caledonia
MSR: Nice tempo for march and well phrased; tone thin, esp. top hand; D suspect in strath; pipes fading further in reel; good piping throughout; stronger sound and who knows?
Med: Much better sound; smart control throughout; good breaks; a few tunes not good enough but band well deserves place in final even if not in prizes.
SFU
MSR: Good swing to march; strath. seems rounded off; tone thinned as performance went on; very well played but a shade reserved in delivery.
Med: Better sound; trifle laid back in jigs; high A beginning to go; brilliant fingers; strathspeys seem to lack dash; Cameronian Rant too long?; perhaps expecting too much after concert. Possible place.
Shotts & Dykehead
MSR: VG tempo in march; P/M keeping tempo going well into circle; 5th part a little early with E strike; very precise fingerwork throughout but especially in strath.; drums supporting pipers well. Top hand towards end?
Med: Good chanter projection; thoroughly impressive playing; very hard to fault; pin sharp unison; really going for it; made for a great listen despite couple of tunes on the bland side; title contenders.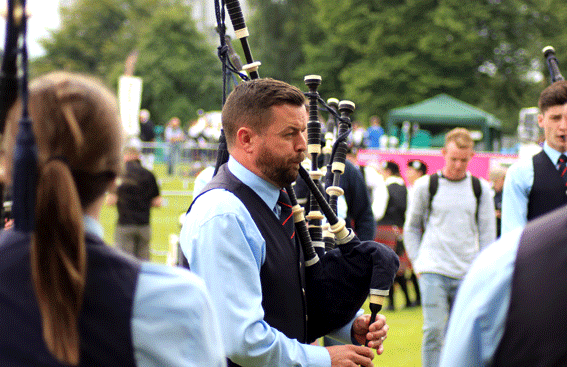 So the overall result, which as everyone knows by now, was:
1 Shotts 2 SLoT 3 I'ray 4 FM 5 SFU 6 Power. I've said all that needs to be said about Shotts: a remarkable turnaround for P/M Ryan Canning, wrought by hard work, knowledge and talent. P/M Alen Tully capped a great season at SLoT. When the drumming prizes were announced many thought the day was going to be theirs but they can reflect on the musical pleasure they have given throughout the summer. Inveraray will be disappointed after last year's second place but third is no shame is it? This is still a young band and with the new pipers brought on board this year they can look forward to 2016 with confidence.
After four titles in a row FM will be disappointed, very disappointed. The 2015 Champion of Champions will respond as they always do, with a re-doubling of effort. Looking at the summaries, the drumming judges placed them well down the field. I am not in a position to comment, but this drum corps has served the band so well in the past; you do not lose what they have overnight. Class is permanent as they say. SFU back in the top six! Great work from P/M Alan Bevan and all his pipers and drummers. The stellar concert on the Wednesday maybe diluted their focus. The top three will be the target for 2016 and on this showing there is nothing stopping them getting there. Scottish Power are one of the most talented bands around. There is always an air of expectation when they take to the field. With a new leading tip they were always going to take time to meld this year. The way they responded to the shaky start to the season speaks volumes for them and P/M Armstrong and bodes well for next year. Of the mid-tablers, Fife Police, Glasgow Police and Boghall are not far off making the lists. Who knows what a hard winter's work might bring?
So that's it until 2016. Don't you think the championship season ends a bit early?  Personally I would like to see the Worlds on the last Saturday of August and the other majors evenly spaced over the summer months. It would mean a switch with Cowal who might not be well disposed to such an arrangement.
---
[wds id="5″]