By Robert Wallace
Central to the success of last night's concert of pipe band music given by Simon Fraser University was the clarity and purity of sound from their pipes. Glasgow Royal Concert Hall rang with the timbre of their chanters, their perfect note intervals, the harmonic breadth of the drones.
Had the band stood on stage for a couple of hours playing 'Old MacDonald Had a Farm' complete with animal noises, the 2,100 standing-room only crowd would still have been transfixed. Perhaps the dreaded hyperbole creeps in, but I assure you the instruments were that good.
On this thrilling medium we were treated to a select raft of tunes and arrangements covering every genre available to the pipe band. SFU demonstrated musical acuity, poise of delivery, expressive subtlety. It all looked so effortless too. Even from my balcony seat it was clear each piper was in total command of his/her instrument (those Lee & Sons pipe bags!). Witty compere Neil Dickie looked more lathered at times than any of the musicians.
But we really shouldn't have been surprised by SFU's cool professionalism. They have played in some of the top concert venues in the world: Carnegie Hall, Sydney Opera House, Lincoln Centre. They know how to pull off the big one. They dispensed with any visuals: no dancers (apart from a few steps from fiddler Bhreagh MacDonald), no overhead photo shots. In truth this band didn't need any of that. They understand that 'good tunes, well played' is enough for any audience.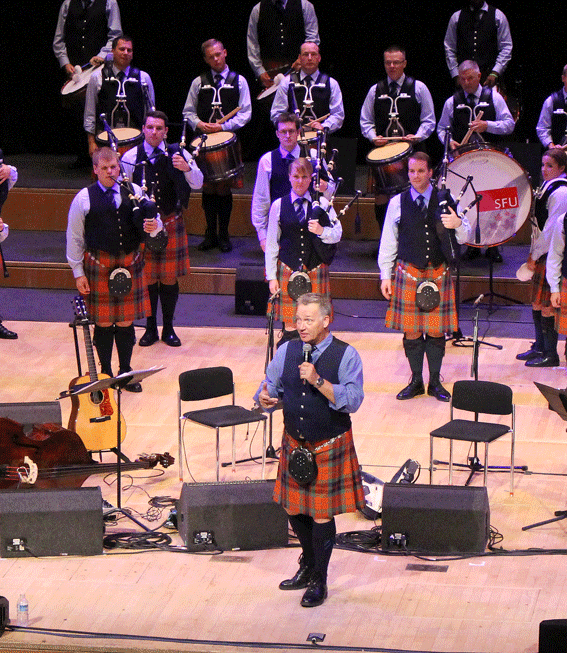 For me the real musical highlights all came when the drums were muted. At other times –  and I stress this is from where I was sitting; it might have been different in other parts of the auditorium – they were overbearing, particularly the perfectly drilled bass and tenors. Any concert producer with a command of proceedings would probably have asked them to play with less forcefulness. Roaring on, they compromised the finesse of the pipes and made the precise fingerwork hard to appreciate.
The quality of the material chosen by relatively new pipe major Alan Bevan was of the highest calibre. I don't think I heard a bad tune all night, and from what I gather from the quartet competition the previous evening, it is time some other bands took a leaf out of SFU's book.  Many pipe band standards such as Cameronian Rant and Mrs MacPherson of Inveran were given a different treatment (I call it pipe band flat-iron), but they worked well even for this greybeard grouch.
Away from the mainstream: Pachelbel's Canon in D has long been a classic in the SFU repertoire and listening to its brilliance last night made me muse on what any pipe band time-traveller would have thought of it. Hadn't the pipe band reached a level of sophistication our forbears could hardly have imagined?
Close on Paddy Bell came Leonard Cohen's 'Hallelujah'; perhaps not Jeff Buckley, but superbly handled all the same, in particular the way the arrangement accommodated the off the scale passages. Have a listen below. Both these numbers (and the Sleeping Tune) held the audience in rapt attention, hardly moving. The smooth accompaniment of Craig Muirhead's piano synth bass line underpinning each and every strand of melody.
Compere Dickie held the whole evening together well. His stories might have been a shade near the bone here and there (children present), but Neil was born with a sense of humour and we all enjoyed his repartee, in particular the hilarious description of the pipe band medley ('strathspeys because we have to'!). He took us from humour to tasteful homily: warm applause for the sadly departed Ed Neigh and encouragement for everyone to use social media to send their good wishes to SFU's front line piper Andrew Bonnar, back home in BC after a year of health difficulties.
Leading drummer Reid Maxwell, a native of Fife and a man who has done so much for pipe band drumming on Canada's west coast, led a fanfare 'Kingpin' composed and named in honour of Jim King, the Dysart leading tip who died last year. Jim's brother Harry was called on to the stage by Neil to receive a copy of the score. There was recognition too for retired P/M Terry Lee who came on to lead the band in a Hellhound Trainesque piece, a model of pipe band orchestration.
At the end of a very quick two-hour show the band marched off the stage playing 2/4 marches, the audience cheered and the applause went on long into the night.
---
[wds id="5″]