One focus of this article is the 2/4 pipe march Lord Alexander Kennedy. Now more popular with bands than soloists, it is nevertheless a classic of the genre. 'Lord Alex' lends itself to innovation and re-write, and many versions of the tune have appeared and been performed over the years. What I'm presenting today, however, is a copy of the original tune as written by the composer, James Honeyman, and passed on to his pupil James Russell, Larbert.It came to me along with a letter from the late piper and judge, Walter Drysdale. The letter reads: 'Hello Robert, During my day at the Royal Scottish Pipers Society one of the things we got talking about was Lord Alexander Kennedy, one of my favourite marches when I was young going round the games circuit.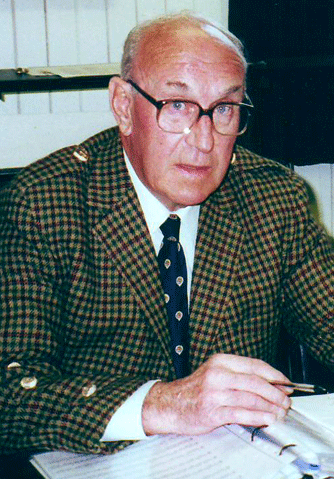 'To the best of my knowledge, the only other player I heard competing with it at that time was the one and only John D. Burgess [Listen to John D. playing the tune here]. The style he played was different from the way I got it from James Russell, one of my tutors from Larbert in Stirlingshire.
'He was a reedmaker and was taught by James Honeyman from Falkirk who composed Lord Alexander Kennedy. I played it the original way Honeyman wrote it – quite a bit different from the way we hear it now, a second time in every part.
'I enclose a copy for your perusal. Incidentally, this is a copy from a hand written book from Robert Shepherd's office [P/M RT Shepherd, World Championship-winning pipe major of Dysart & Dundonald Pipe Band]. Robert was also a pupil of James Russell and later became a pupil of mine, and I also helped him along with his reedmaking.
'Unfortunately when I went up north to work on the hydro schemes he slipped through the net and was another good solo player lost to bands. I'm sure there must be a good few players still in the central belt who will remember this style of the tune. 
'After we talked about MacSwan of Roaig and the run-down Robert Reid style, I am back playing it that way again. All the best, Walter.'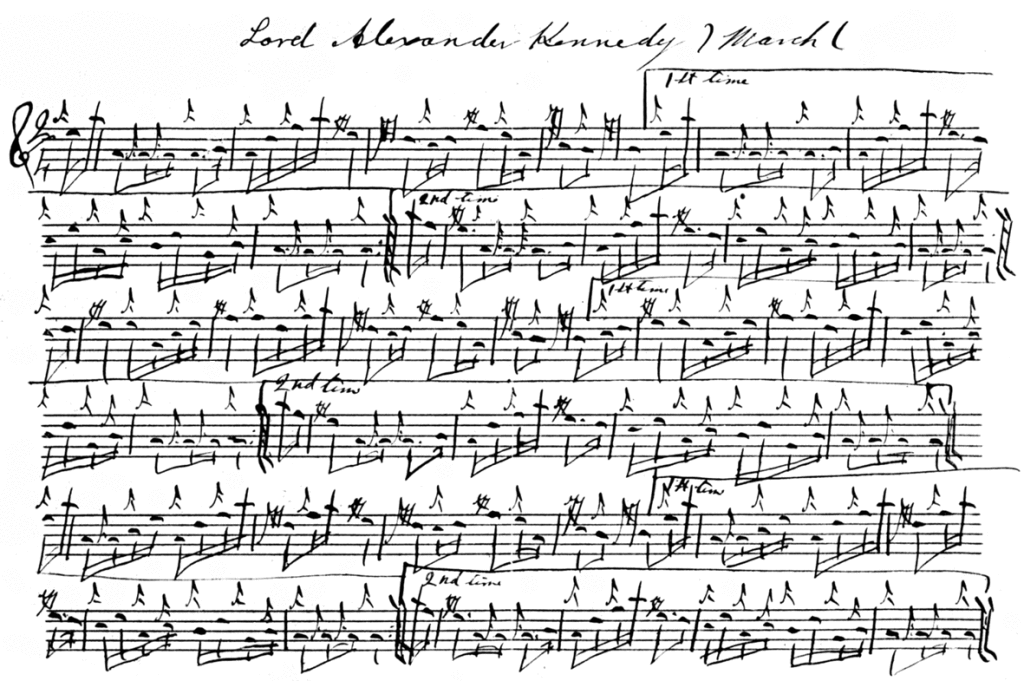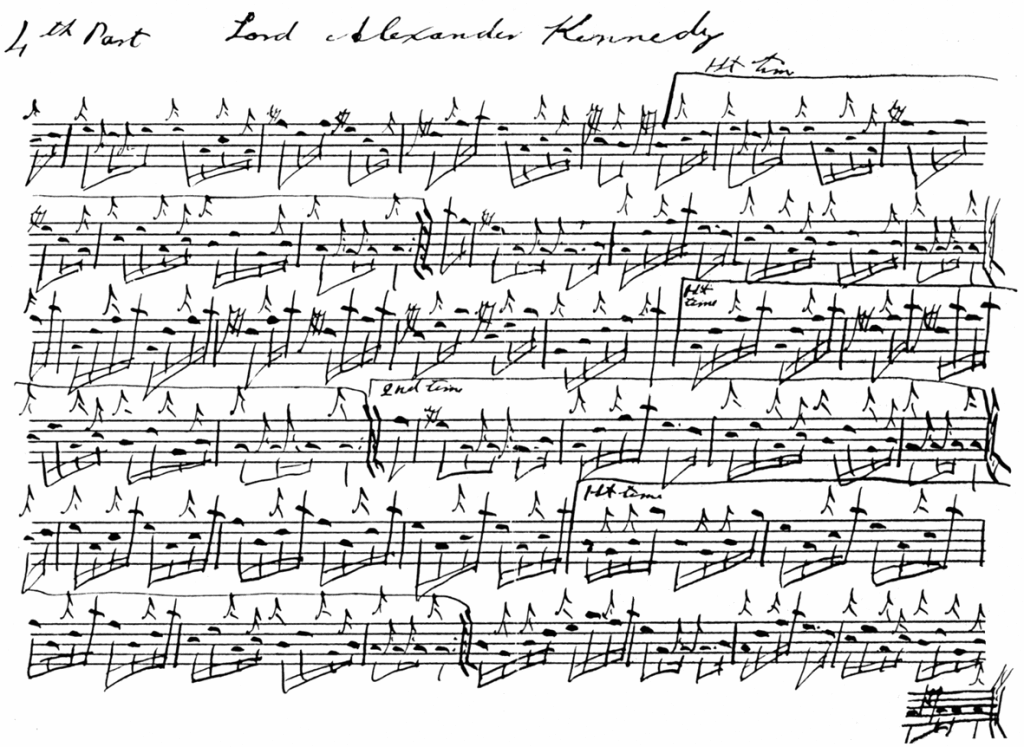 Study of the manuscript reveals the seldom heard ending of 'G gracenote to low A – birl – G gracenote to low A':

More often these days we hear the G gracenote to low A crotchet and then the birl. However, if we look closely at the final ending to the tune – clearly still in the writer's hand – we see what appears to be an open taorluath and a low A crotchet to finish:

Whether this was deliberate, a means of signing off the tune in distinctive fashion, or a change of mind, I don't suppose we will ever know.
As with some other music from this period, the tune is devoid of dots and cuts in the four-note semiquaver groupings. This is probably for ease of transcription, or possibly deference to the rounder, quickstep style that seems to have been prevalent in 2/4 competition march playing in the late 19th and early 20th centuries, interpretation yet to move away from the idea of the simpler two-parted tunes played up tempo and straight as a die.
Notice the strike on low A at the start of the third part – today it's a birl. This device is also used at the start of the second times: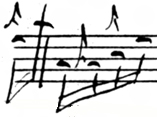 We have E grips (in the old pre-Willie Ross style) at the start of the fourth part, whereas today we commonly hear 'E – cut C – back to E'.
Now we have Walter's  obituary and additional information about the tune's composer, James Honeyman, and its subject.
The picture at the top of this article is of the 42nd Regiment (The Black Watch) in 1852, while stationed at the Citadel in Halifax, Nova Scotia. Lord Alexander Kennedy was an officer in the regiment and James Honeyman a piper. It is likely Honeyman, in the regiment 20 years later, would have worn a uniform similar to the piper highlighted.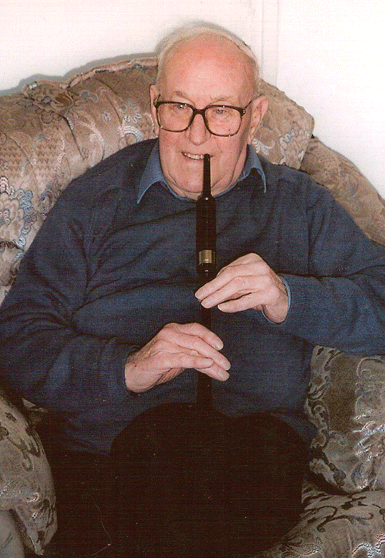 Of Walter Drysdale's death the Scotsman newspaper reported: 'Walter Drysdale was born on 25th January 1926, in Bo'ness, near Falkirk, and died on 27th November, 2009, in Kirkcaldy, aged 83. Walter Drysdale was a man who combined strong man-management skills in his professional field with outstanding performing skill on the great highland bagpipe and a deep knowledge of pipe music.
'When he was only three his mother died and he was taken from Bo'ness to Fife, where he was brought up by an uncle in Methil. Following an apprenticeship as a motor mechanic he completed his National Service and then worked as a foreman fitter on the Lairgie Tunnel from Loch Sloy, where he and his team set a tunnelling record of 444 feet in seven days.
'He also worked on the Watlins River Leven purification project and on various projects with Costain, ending his career as plant manager of the open cast mine at Loch Leven. As a manager he was regarded as firm but fair, and was well-respected by his workforce and his employers alike.
'As a boy Walter learned to play the pipes with the Methilhill Pipe Band, and having won the Fife Open Championship at the age of 16 he was taken on as a pupil by Jimmy Russell from Larbert, who honed his piping skills. He also went to Robert Reid in Glasgow for occasional lessons and was an adherent of the piobaireachd playing of RU Brown and RB Nicol, the royal pipers at Balmoral.
'During the 1950s he was a regular competitor at Highland games around Scotland and became a prodigious prize-winner, taking many first prizes in competition with all the top pipers of the day. He is particularly remembered for his strong playing of marches and his mastery of piobaireachd.
'Having retired from the competition boards, Walter took up teaching and judging. Countless pipers from professional and amateur ranks came under his guidance and he took great pleasure in the competitive successes many of them achieved. As a judge he became one of the most experienced and respected on the judging circuit, and travelled huge distances each season to judge at competitions. At Lonach in Strathdon, for example, he was given a special award to mark 50 appearances there as competitor and then judge.
'Until as recently as four or five years ago he would judge at as many as 35 competitions in a single season, but ill health eventually forced him to cut back on his judging and teaching commitments. He remained deeply interested in pipe music and spent much of his later days listening with contentment (and the occasional incisive comment) to his extensive collection of recordings of the great pipers of the latter half of the 20th century.
'Walter married Margaret Thomson in Methil in 1947 and they enjoyed 49 years of happy married life before she predeceased him. They had five children, three of whom survive him, together with six grandchildren and eight great-grandchildren, of whom he was intensely proud. He was a great Fifer, and the east of Fife and the whole piping world are much the poorer for his passing.'
---
Have a listen to Inveraray & District playing Lord Alex


---
The 'Notices of Pipers' compiled by Lt. John MacLennan (father of G. S. McLennan) and Major I. H. MacKay Scobie has this on James Honeyman, composer of Lord Alexander Kennedy:
'A native of Falkirk. Piper in the Black Watch. Served in the Ashanti Campaign of 1874. When the 42nd was at Malta in 1876, one of the officers who was a keen piper (Lord Alexander Kennedy) went on leave to the Holy Land. On his return he was greeted by Honeyman who informed him he had composed a tune. Lord Alexander asked what the name was to be. 'I intend to call it 'Lord Alexander Kennedy's Farewell to Gethsemane',' said Honeyman. Lord Alexander, however, suggested that this was hardly appropriate, and Honeyman took a lot of convincing before he altered it to 'Lord A. Kennedy's March'. Honeyman afterwards worked at Falkirk iron works, and died there in 1889. His brother and father were pipers in the 42nd.'
 And on Lord Alexander Kennedy: 'Son of the Marquis of Ailsa. Entered the 42nd Highlanders (Black Watch), and served in the Ashanti Campaign of 1874. Was a keen amateur piper, and composed pipe tunes, or adapted fiddle airs for the pipes. He was the subject of a very fine march, composed by Piper Honeyman.'
Ailsa is an estate near Ayr in south-west Scotland and takes its name from Ailsa Craig the volcanic island landmark famous for its blue granite used in the manufacture of curling stones.