We conclude our feature on the late Pipe Major with the final excerpt of the interview given in 1999 where he talked of his many successes in the Former Winners' March, Strathspey & Reel at the Northern Meeting at Inverness.
Listen to Alasdair's superb playing here.
1992: Ross-shire Volunteers, Knightswood Ceilidh, Susan MacLeod, MacBeth's Strathspey, Miss Proud, Cockerel in the Creel. This was a fantastic year for me. I had won the Senior Piobaireachd at Oban (although to this day I don't know how), second in the Oban Former Winners, and l had won the Clasp. To win the Former Winners at Inverness would mean three out of the big four and second in the other. I enjoyed this performance and didn't feel any pressure. This win made it number five and people were asking who held the record.
This was really the first time I had thought of researching to find out. My Pipe Major's Course folder had all the prize lists going back to the start so l quickly realised that I was among some great names in the piping world. This was also the second time I had won two in a row. The MacBrayne Challenge Trophy only goes back to 1963 as the prize for the Former Winners. Nobody had won it three in a row. This was now the aim as well as equalling the records of Donalds MacLeod and MacPherson who both had six wins in the 'big' MSR at Inverness. In the 1950s, prior to the cup being given as part of the prize, John MacLellan had won three in a row and Donald MacLeod an incredible four in a row.
1994: Mrs J MacColl, Hugh Kennedy, Piper's Bonnet, Susan MacLeod, John Morrison of Assynt House, the Smith of Chilliechassie. I was in the same position as I was in '92, having had the same results at Oban again. I didn't think of that and was again happy with this performance. Amalgamation was looming in the regi­ment so I was quite keen to equal the record as a Queen's Own Highlander. It suddenly dawned on me that l had in fact won this event at every rank I had held throughout my career from private soldier to pipe major. This is something else I am pleased about, as surely it will take some­one special to repeat this. The result was favourable and I equalled the record.
1996: The Clan MacColl, John MacDonald's Welcome to South Uist, Piper's Bonnet, Tulloch Castle, John MacKechnie, Roderick MacDonald. I had missed playing at Inverness in 1995. I had hoped to return to winning ways this year and things went to plan. l felt that I played well. It was a matter of what the judges thought.
It can be a long wait in the bar at the Eden Court after you've played, as the competition has now so many qualified participants that it is seldom finished before midnight. However these are the rules of the game and you have to take your draw like everyone else. As I wrote in the last issue of the Piper Press, Donald MacPherson was the first to congratulate me when the results came out. l had just beaten his record and he had nothing but praise for me. This, I'm sure will be one of my fondest memories when I look back over my piping career. Of course I would say that Donald's other records are pretty safe and well beyond me, but I am happy to have been able to snatch one for myself.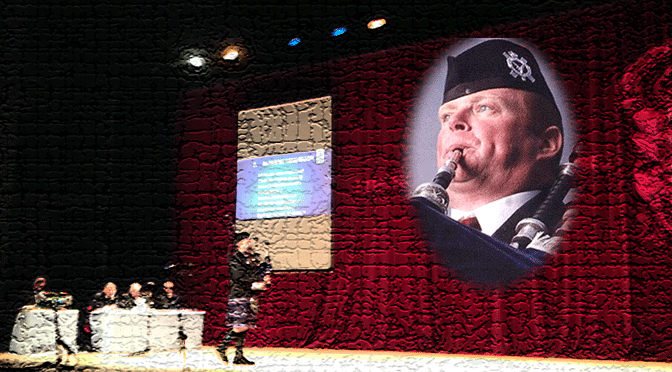 A cocky young Scott Drummond told me later at a party 'That was lucky', to which I replied that I couldn't have been seven times lucky. We are good friends and I enjoy the banter with Scott and Stuart Liddell as they try to take me down a peg or two. I played in the Scottish Power pipe band the following year. My position was in the middle of the front rank. On either side I had these two heroes so the crack was good. Hopefully I' II keep them at bay for a few years yet. I'm very quick to remind them that at their age I had two or three Silver Stars under my belt. As yet they've no answer to that.
1997: The Clan MacColl, Knightswood Ceilidh, Piper's Bonnet, Cabar Feidh, Dr MacPhail's Reel, the Smith of Chilliechassie. With no more thoughts of the record I just get up and enjoy myself. Playing on that stage at the Eden Court is like being at home for me now. Over the years I've spent a few hours up there so I'm well versed on how to handle the atmosphere. I think this helps a lot.
1998: John MacDonald's Welcome to South Uist, Hugh Kennedy, John Roy Stewart, Cabar Feidh, Cockerel in the Creel, John Morrison of Assynt House. Last year was my first big return since moving to the US. I had thought that peo­ple might be wondering if I was still as sharp as before, now that I was a civilian. I hope I proved that I can still keep my edge, no matter what. Again I had a long wait to play, then the usual hanging around waiting for the end of the contest. I played well with no misses and the pipe held well.
The result went in my favour and the celebrations started again. I was returning to the US at 06.30 hrs the follow­ing morning to take the Carnegie Mellon band to Ligonier Games. I missed the sec­ond day of the Northern Meeting and playing in the Clasp, but I must admit that in 1998 I got what I wanted from my visit to Inverness.