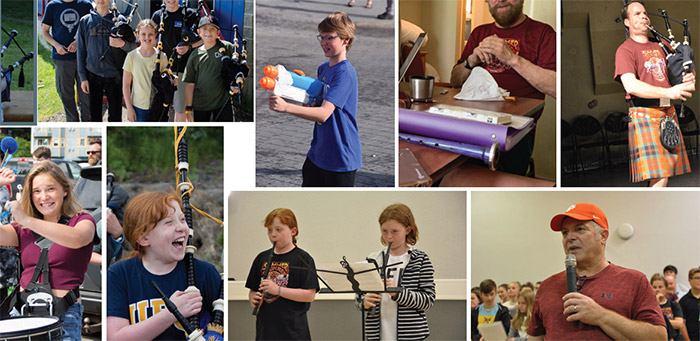 By Jack Lee
Simon Fraser University Pipe Band have run the largest summer school for Pipers, Drummers and Highland Dancers in the world for quite a few years now.
'Piping Hot Summer Drummer' has had 26 tremendous years out here on Silver Star Mountain, BC. We usually get around 300 students over the two weeks in July. We have some terrific 'overseas' instructors, such as Stuart Liddell, Steven McWhirter, Callum Beaumont.  
They teach along with quite a few members of the SFU Pipe Band. This year we also have Marielle Lesperance teaching. Marielle is the world Highland dancing champion.

This year the corona virus has impacted us all in negative ways. Social-distancing, no large groups, no international flights at the moment. So, we are taking our school virtual on ZOOM.
'Piping Hot Summer Drummer Worldwide' is Zooming from July 12-17, 2020. As much as we can it will be a virtual version of 'Piping Hot Summer Drummer' on Silver Start Mountain: classes, workshop, recitals and tons of excellent instruction.
Here's the blurb: Welcome to the 27th year of PHSD! We usually look forward to seeing you on Silver Star Mountain but this year's worldwide disruption of regular programmes and events means that we are going to bring PHSD to YOU!
Join Jack Lee, J. Reid Maxwell, Stuart Liddell, Steven McWhirter, Callum Beaumont, Marielle Lespérance and the world-class instructional staff for an amazing week of inspired online instruction and performance in music and dance!
Online instruction from the world's most experienced teachers in ANY medium! As usual, we'll have a brilliant music package for you, and have top-level instruction with some of the world's best-known names in solo piping, pipe bands and highland dancing.
PHSD instructors are at the top in their respective fields, and they know how to get great results from others. Whatever your level or goals — from novice to professional — the instructors will help you reach your potential.
Classes begin at 1pm (Pacific Standard Time) on July 12, and end at noon on July 17th. This amazing week is specially priced at $395Cdn.
Register by July 1; detailed information at www.phsd.net
---