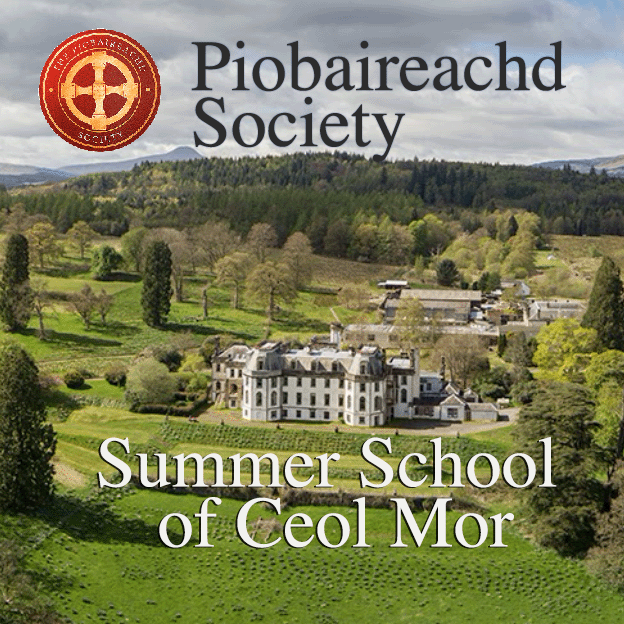 In a new venture, the Piobaireachd Society are running a Summer School of Ceol Mor in late May 2020. Tuition at the school is free to all members of the Society. The tutors are myself and former President Dr Jack Taylor.
The venue is the spacious and well appointed Gartmore House just south of Aberfoyle, about 45 minutes from Glasgow. As I say, the tuition is free. Participants only have to pay for is their board and lodgings. Dates and times are from 2pm Sunday May 24 till 10am Thursday May 28
Both Jack and I have run many of these schools over the years and there is no question there is something extra to be gained by the student when he or she spends a protracted period of time totally immersed in their music with instructors on hand for the period. They learn both formally and informally, listening and watching.
There will be group and one to one lessons and an evening piping ceilidh. If deemed successful the Society's General Committee has indicated that the event may be repeated. More information on the Piobaireachd Society online shop. Join the Society here.
Entries for the RSPBA West of Scotland Branch Graeme Johnston memorial Contest are now open. The contest is on Feb 22 in the Piping Centre, Otago Street, Glasgow.
Presumably this is just the sort of event that will be held in th Association's newly refurbished Washington Street HQ next year, not that the old CoP building is anything other than ideal.
The contest starts at 10am and main sponsors are McCallum Bagpipes who are offering a set of pipes to the winner of the Under 14 MSR and Wallace Bagpipes who are sponsoring a couple of places at the RSPBA Summer School. Great prizes and well done to both these companies for their continued support for junior piping. Entries close on February 8. Entry form here.
---
The promoters of the Lorient Festival Interceltique have sent us a copy of their super new poster for 2020: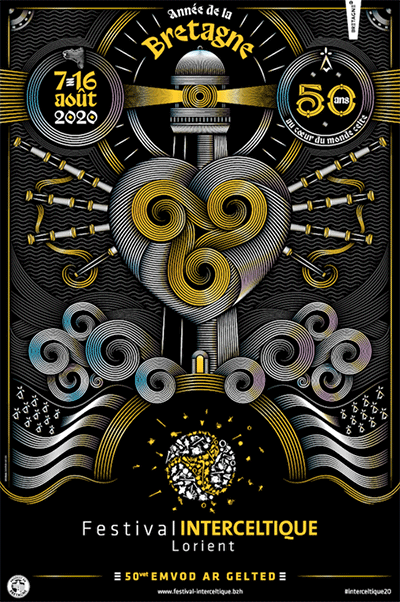 The blurb: 'For its fiftieth anniversary, the Lorient Interceltic Festival honour Brittany! The 50th edition will take place from August 7th until the 16th. As of January, the radiant Brittany atmosphere will transpire through this new poster which displays the festival origins and reveals the many powerful symbols of this Celtic territory.'
---
---
Lochaber Gathering have confirmed that the 2020 contest will be held in the Nevis Centre on August 22, that's the Saturday between Inverness and Oban. Further information and entry to Allan MacColl.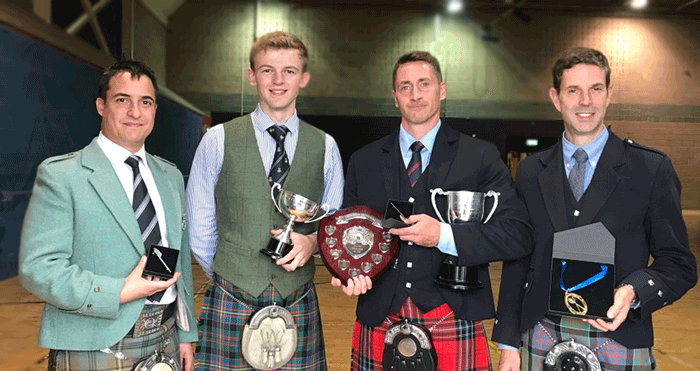 ---
From the archives…
Pan Celtic Pipe Band Competition. Killarney, Ireland, May 1977:
Grade 2 1 Black Raven Pipe Band, 2 Fintan Lalor 3 St Laurence O' Toole; Drums Fintan Lalor.
Royal Scottish Pipers' Society, April 1977: P/M William Ross Cup RAS Frater
Piob: 1 Robert Frater 2 Norman Matheson 3 Sandy MacPherson
MSR: 1 Robert Frater 2 Norman Matheson 3 Leslie Craig
March: 1 NA Matheson 2 NA Malcolm-Smith 3 DJ Balfour
S&R: 1 DJ Balfour 2 NA Malcolm-Smith 3 IK Murray
Scottish Junior Championship, Carnoustie, 1998:
U-13 Chanter: 1 Callum Beaumont, Bo'ness 2 Robin Wylie, Birnam 3 Thomas Elphinstone, Edzell 4 Callum Callender, Forfar
U-13 Novice Piping: 1 Callum Beaumont 2 Kevin Whyte, Inverbervie 3 Isaac McPhee 4 David Wilton
MSR: 1 Hamish Munro, Llandbryde 2 James Beaumont, Bo'ness 3 Bruce Erskine, Dundee 4 Darach Urquhart, Kyle
Piob: 1 Thomas Fraser, Aberdeen 2 Alasdair Brown, Plockton 3 Darach Urquhart, Kyle 4 Colin Stewart, Banchory
---