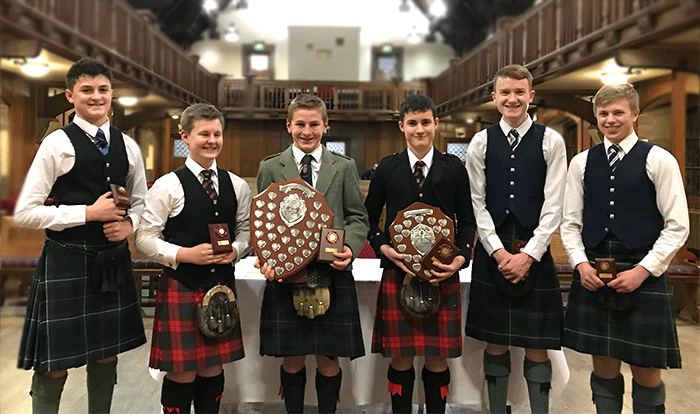 By Robert Wallace
I had the pleasure of attending the Scottish Schools' Combined Cadet Force Piobaireachd Championship last Friday evening (Jan 17) to judge the senior section. The host was Merchiston Castle School, one of the most prestigious in the country and one which prides itself on the quality of its bagpipe tuition.
Nine young men were forward and it really was heartening to hear their efforts. They were a credit to themselves amd their schools. All prizewinners are pictured above.
It is not often in the juvenile ranks that you find a competition solely dedicated to piobaireachd but so it is for this contest. Each year it is organised and promoted by a different private school registered with the Army's Combined Cadet Force and each year the various tutors attend their charges.
Among those on hand on Friday were Michael Gray (The Edinburgh Academy), Willie McIntyre (George Heriot') and Gordon Campbell and Barry Donaldson (Merchiston).
Judging the juniors, where seven played, was Brian Lamond, Fife. Brian reported a high standard.
The results in this competition were:
1 Angus Crockett, Dollar Academy, Queen Elizabeth II's Salute
2 Alistair Williams, Dollar Academy, Cabar Feidh gu Brath
3 Hugo Macpherson, The Edinburgh Academy, Too Long in This Condition
In the Seniors the prizes went to
1 Archie Clark, Morrison's Academy, Cabar Feidh gu Brath
2 Christopher Happs, George Heriot's School, Battle of Auldearn 2
3 Bruce Gardner, George Heriot's School, Desperate Battle of the Birds
At the conclusion I was asked to say a few words and praised the various tutors for ensuring that no one played a piece outwith his capability. Too often in junior contests do we hear difficult tunes such as Lament for Mary MacLeod or even Ronald MacDonald of Morar.
I pointed out the benefit young pipers get from learning ceol mor: the need to concentrate, to have a bagpipe which is comfortable and air efficient, and the way it encourages steady blowing and optimum finger control.
In my competition Archie Clark was a worthy winner with a well set out and phrased tune. His pipe was on the dull side and his crunluaths could be nippy but that said he had all the other aspects of the business in hand.
Second placed Christopher Happs had a better pipe than Archie but didn't quite phrase his tune as well and there was a lack of fluency in the crunluath and a mach.
Third went to Bruce Gardner for a spirited rendering of his tune, good tempo change and crisp fingering to the fore but spoiled by rushing in variation three and elsewhere.
Of the others, Ruairidh Brown (Dollar Academy) was tight with his fingerwork and had a slip in the Red Speckled Bull – and he overdid the ends of lines on B in the Ground. Paul Christie (George Heriot's) did well but played to feet and had two fumbles in Too Long in This Condition; Joe Barne (The Edinburgh Academy) needs to work on his throw to F but had the essence of Black Donald's March; Angus MacGregor (Merchiston Castle) played well but had a few wrong notes and misses; Sebastian Anderson (Fettes College) needs to get the practice chanter out – his Field of Gold was marred by catches from the bottom hand; Dugald McKechnie (Dollar Academy) is a promising player but had tight top hand movements in Too Long and lacked pointing in V1.
In all a very enjoyable evening with Merchiston Castle School proving an excellent venue.
---
[wds id="11″]