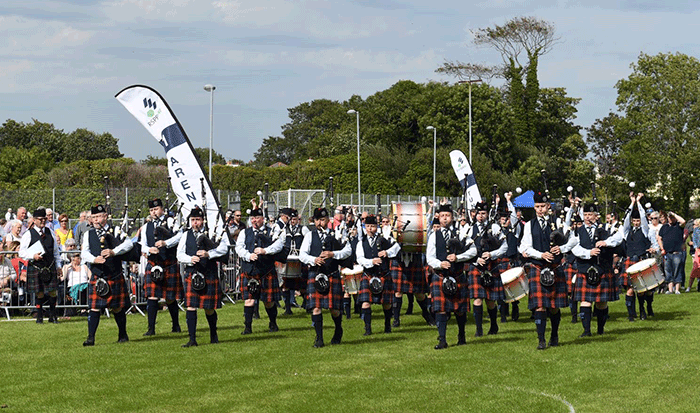 The 69th Annual General Meeting of the Royal Scottish Pipe Band Association Northern Ireland Branch took place last Saturday, 30th November 2019, in the Trinity Methodist Halls, Lisburn. RSPBANI Branch Chairman Ray Hall welcomed the band representatives and extended a special welcome to RSPBA Chief Executive Ian Embelton and to Seamus Russell who was representing the Irish Pipe Band Association.
Presentations were made to three member bands who are celebrating their centenaries, Cullybackey, Hollymount and Ballyboley, and also to Jamie Coffey to mark his achievement of winning World Juvenile Section 3 at the World Solo Drumming Championships, and to retiring Marching and Deportment Adjudicator, Robert (Bertie) Young.
The meeting heard reports from the various committees before the Election of Officers was carried out. This resulted in the existing team being returned with the exception of a change in the representation on the Music Board in Scotland with Mark Hasson of Colmcille Pipe Band being elected to that position.
Six Notices of Motion which had been put forward were then debated and voted on with two being successful while another will go forward to be voted on at the RSPBA AGM in March 2020. The successful Notices of Motion were:
1 (Proposed by Colmcille Pipe Band): That the RSPBA Directors carry out a detailed and costed feasibility study examining the practicalities, advantages and disadvantages of issuing a photographic identity document to RSPBA registered band members to prove their identity at all band contests. The Directors should present their recommendations at the 2021 AGM.

2 (Proposed by Closkelt Pipe Band who are pictured top at this year's Ulster Championships): Proposed change to Local Competition Rules by the deletion of Rule 2.4 'Bands will be confined to their own grades at the Ulster Championships'. This change will now allow bands to 'play up' at the Ulsters.
Obviously this report so far does not include any mention of the discussion on the 'Refurbishment of Headquarters' issue. However my personal views, for what they are worth, are as follows:
First and foremost the RSPBANI Branch have to explain themselves to their membership – and membership only. I have a notion that some of the most vocal online commentators appear not to be RSPBA members (30 years service to pipe bands does not make you a member. I have over 48 and I am not a member). Join up if you want a say at meetings.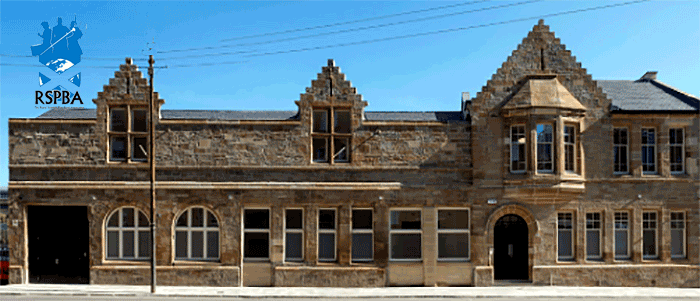 The clandestine recording of the comments by the Chief Executive at the meeting were completely out of order and I would imagine sanctionable if the offender could be identified. Other have found this to be the case to their cost.
Social media slandering of RSPBA officials is a very dangerous activity and once anyone posts long diatribes the potential is there for any 'Tom, Dick or Harry' to pass some stupid remark. It could end up with individuals in court – RSPBA Directors as a group or as individuals are having their reputations tarnished after all.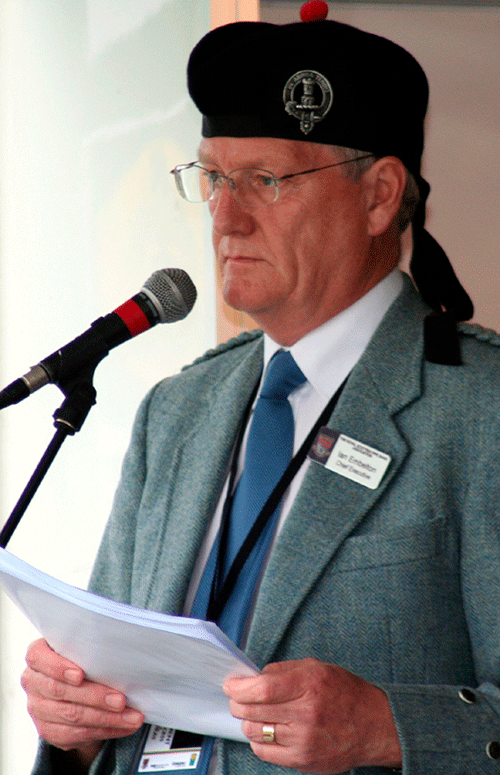 The Headquarters project took over a year to complete and quite a few years to plan and had to be approved by the members and Directors via regular updates before it even got started. So if there is anything untoward going on the members are as complicit as the Directors – especially those who don't bother attending meetings but jump on the bandwagon when they see an opportunity to criticise.
I see some are even suggesting that a small office in an industrial estate would have been suitable as an HQ. The RSPBA is a worldwide organisation. It needs proper administrative offices and if it has a teaching programme it needs appropriate facilities. I also note that the new facility will have a concert room which should give it the chance to raise funds. Big projects generally have a habit of costing more than their original estimate but in time the RSPBA will get its finances back on track – if indeed they are off track.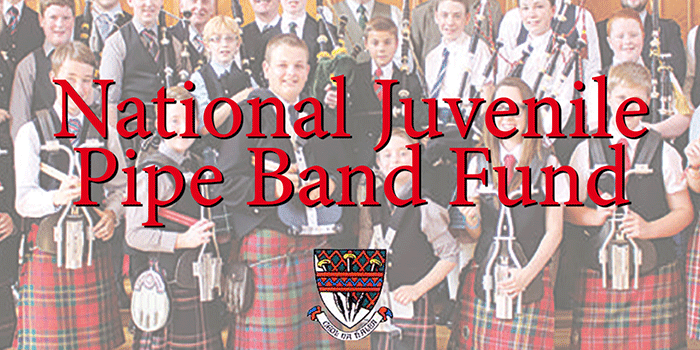 The Chief Executive attended the AGM and did his best to answer the questions raised. Whether that was to the satisfaction of the members only they can answer. However, every one of the RSPBA's Branches has Directors (NI have three) so the buck stops with them.
I do appreciate there are aspects of the project concerning public grant money but that is surely audited by the appropriate authority issuing it. The question is, is there actually a story here or is there another agenda running?