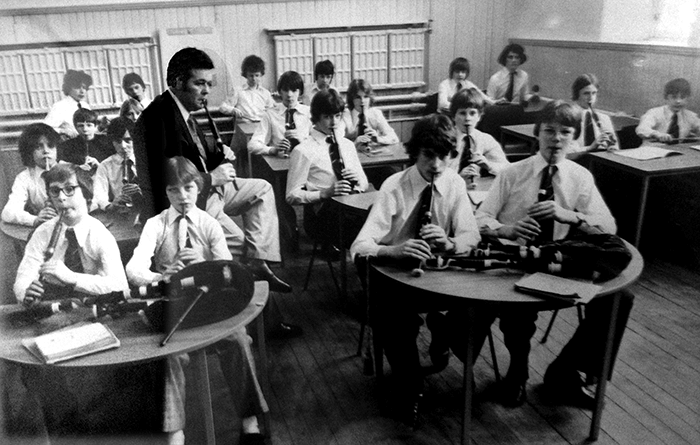 Tam McGirr, formerly of Fife and now in Australia, has sent this regarding the historic picture of Bob Shepherd in his early days teaching piping at Ballingry School. Tam writes:

'To the best of my recollection the pupils are, front desk with glasses: Tom McGirr (Dysart Worlds 1978) age 15yrs then Shotts & Police Fife) and James Galloway. Left desk: Robert Jeffrey and Billy Campbell. RT Shepherd. Seated behind: Jock Rougvie, possibly Stevie Erskine. Drummers, left to right: Alan Faulds, Stuart Ritchie, Sam McPherson (Pollkemet), Wullie Templeton, Keith McGregor, Robert (Genghis) Martin. Table in front of drummers: Colin (Sparry) Page (Vale of Atholl), Donald Brown, Alan Shields, Jim Menzies, Andrew Stark (Dysart Worlds 1978) aged 15yrs.
'This photo was a long time ago taken in Bob's mathematics classroom at Ballingry School. All these pipers and drummers would have been members playing in the Ballingry School Novice Juvenile or Ballingry School Juvenile, winning the Worlds and near all majors in the calendar of that era. A tremendous achievement stemming from the man himself. R.I.P RTS.'
Another Bob Shepherd protege, Tam Brown, now a schools instructor in Fife, sent this regarding the picture – Pipers: W Campbell, C Jeffries, J McGalloway, T McGirr, I McLeod, A Stark, R Ford, D Erskine, A Crawford, D Brown, C Page, A Shields, J Menzies; Drummers: A Faulds, S Ritchie, S MacPherson, W Templeman, R Ward, R Martin, D Mc Phail.
As regards Bob Shepherd's achievements, read this from the Scotia Pipers website: '…..the band went into steady decline as the Dundonald Colliery was closed in 1965. The village and the band had lost their creator and the future was bleak. However, the Francis Colliery in Dysart decided to adopt the band. This is how the band is now known as Dysart & Dundonald Pipe Band. The adoption and change of name unfortunately didn't provide an immediate cure.
'Pipe Major Robert MacKay retired the following summer after devoting sixteen years service to the band. Only three members were left, namely James (Premo) McFarlane, George Shepherd and Robert Shepherd.
'The committee appointed Robert Shepherd as Pipe Major in 1966. Bob may not have been the most tactful Fife piper but he certainly was the most effective. Within a few weeks of his promotion he had rallied more musicians around him and the band actually managed a few public appearances.
'The following winter Bob decided he would have to rear his own players to make satisfactory progress. Another huge step was taken and Dysart & Dundonald youth policy was born. By 1968 the band's youth policy had begun to manifest. The band started to really grow in stature and for the first time since 1958 it won a significant prize.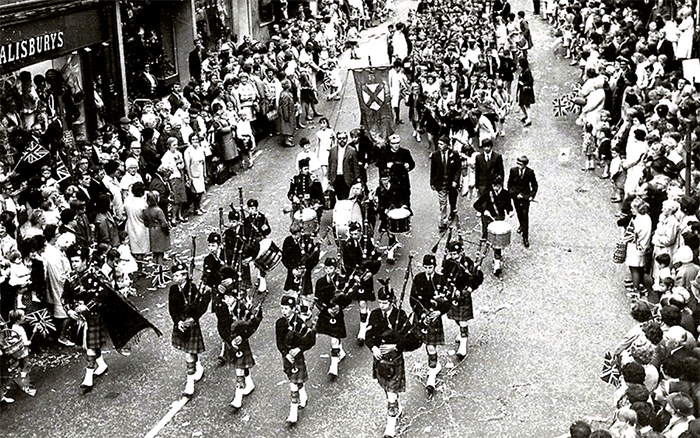 'Having previously been relegated to Grade 3 the band overcame the odds to beat all the other Grade 3 bands to lift the honours at Dunblane in September 1968. In 1969 the youth policy was progressing so rapidly that a novice juvenile band was formed and it went on to lift the British Championships at Renfrew. This was subsequently followed by the World Championships in Perth where the novice band finished third and the senior band being pipped for the title by a mere 1/2 of a point.
'The band became Champion of Champions in 1970 and was subsequently upgraded to Grade 2. This coincided with the Juvenile band changing its name to Ballingry High School. The pipe band world was reeling from the impact of Bob Shepherd's bands as they both won their respective Champions of Champions titles in 1971. Due to a major piping event in Canada, the grades were frozen and as a result the band was not promoted. That year the band won the five major championships.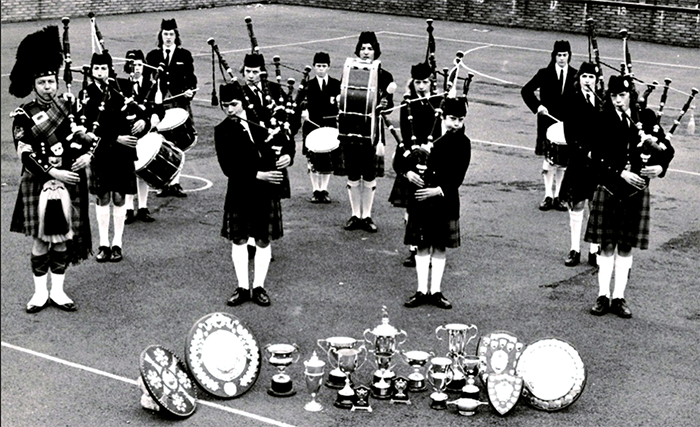 'In two years in Grade Two the band took part in ten major championships being placed second in the first two and winning the remaining eight giving them a magnificent 58 points out of a possible 60.
'Grade 1 titles won by Dysart & Dundonald Pipe Band: World Champions twice; Cowal Champions four times; British Champions three times; Scottish Champions seven times; European Champions twice; Supreme Champions three times, Intercontinental Champions once.
'Not bad going for someone who started off with only three pipers, including him, and an old wooden hut at the end of the miner's row as a practice area…..'