The Editor: We continue with the second excerpt of the Oban Times report from Inverness of almost 50 years ago. Thanks to those who have been in touch regrading our quest for the writer's identity. One described him as a 'big tall guy who as far as I recall walked with a bit of a limp. He often wore the kilt and seemed to turn up regularly. I can picture him fine, but cannot recall his name'. Another thought that it was either Fred or Ronald Morrison. It would not be Ronald as he took over after Fred passed away. If anyone has any further information please forward.
There was an entry of twenty for the Former Winners march, strathspey and reel competition, of which 17 competed. This is a strenuous competition and it was evident that many competitors felt some strain. There were three break downs and nearly every performance had some sort of blemish. 
The first prize went to last year's winner, Pipe Major Iain McLeod, Edinburgh Police Pipe Band, who played 'The Royal Scottish Pipers' Society', 'The Shepherd's Crook' and 'The Rejected Suitor'. Even this performance was not without minor faults.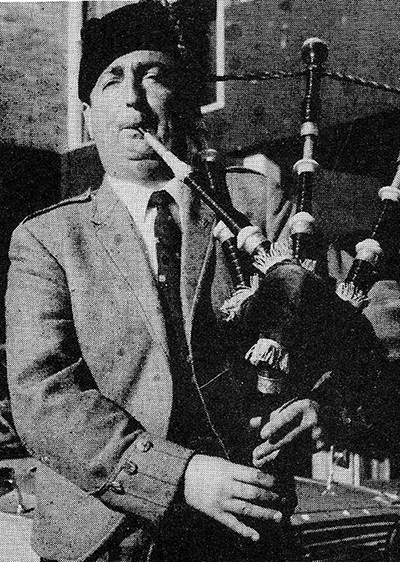 The runner-up was Cpl. Iain Morrison, Queen's Own Highlanders, who played 'Donald MacLean's Farewell to Oban', 'John Roy Stewart' and 'Lexie MacAskill'. The latter tune was the most distinguished of this group which tended to be a little uninspiring. Third place went to Lawrie Gillespie, also of the Edinburgh Police Pipers; his tunes were 'Pipe Major John Stewart', 'Inveraray Castle' and 'John Morrison of Assynt House'.
One redeeming feature of this com­petition was the very high standard of the bagpipes, with John Percival and John MacDougall having beautifully toned instruments.
The judges were Dr Robert Frater, Pipe Major Ronald MacCallum and Captain John MacLellan.
Gold Clasp
One of the most important competition in the piping calendar is that for the Gold Clasp. The set tunes this year were 'Lord Lovat's Lament' (10), (3); 'Craigellachie' (7), (1); 'Clanranald's Salute' (14), (2); 'The Prince's Salute' (12), (3); 'Nameless' , Hiharin Odin, Hiharin Dro (4), (2); 'The Big Spree' (13), (2).
The first numbers in brackets shows the number of times the tunes were chosen by competitors, who had to submit four tunes each, and the second, the number of times the tune was actually played.
An interesting feature of this com­petition was that those who played the 'Prince's Salute' chose to play Donald MacDonald's setting, but only David Ross was able to take some brightness out of it, and to impart the gaiety that is expected from a salute.
There was a good standard of playing in this competition, which was won by Donald MacPherson playing the Kil­berry setting of 'Lord Lovat's Lament'. This was a tune of high technical merit on his usual well tuned and toned bag­pipe, though one wonders why he so rigidly confined the flow of the phrases in the beautiful first variation.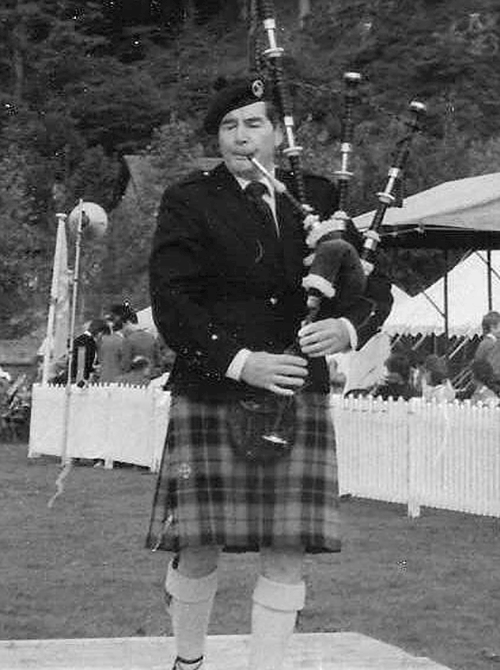 Second place went to Hugh MacCallum who was given the 'Big Spree' to play. This was also a high quality performance, though all the time sounding a little careful. A more varied tune tempo wise would have made more interesting listening. His bag­pipe was only equalled in excellence by that of the first prize winner. 
The 'Nameless' tune brought Iain MacFadyen into the list in third place. This was a vigorous and well played tune which was kept alive from begin­ning to end. The performance was slightly marred by his drones going off near the end of the tune.

The same tune brought fortune to John, Iain's brother, who played it in excellent fashion, but he did not really get his bagpipe properly settled and this was reflected through the whole performance. He was placed fourth.
Other good performances were made by David Ross, 'Prince's Salute' (right) and Seumas MacNeill, 'Craigellachie' who both tended to have weak crunluath variations. In contrast one must men­tion the final crunluath variations played by John MacDougall which was perhaps the best piece of playing in the competition. 
The others who competed were John Wilson, 'Lord Lovat's Lament', Donald Morrison, 'The Prince's Salute', Cpl. Iain Morrison, 'Clanranald's Salute', Wm. MacDonald (Benbecula), 'Lord Lovat's Lament', John Burgess, 'The Big Spree' and Thomas Pearston, 'Clanranald's Salute'.
The judges were Dr Kenneth MacKay, Pipe Major Ronald MacCallum and Captain John MacLellan.