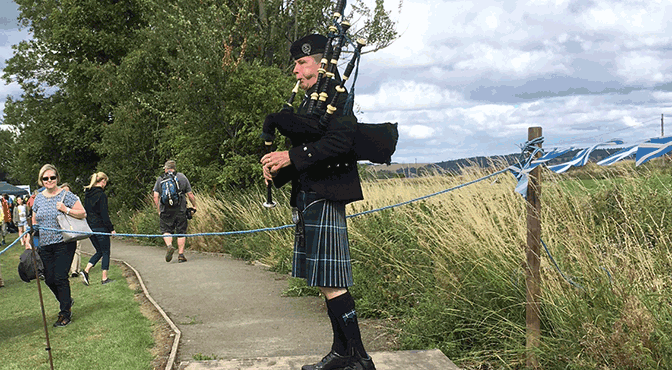 Weather: heavy rain until late afternoon. Solo piping events were held in the groundkeepers' equipment shed! Despite difficult conditions, 11 professionals and five juniors competed and a good standard of playing was heard. This games offers significant prize money, so pleasing to see a healthy level of entries despite the weather conditions and conflicting events. 
Open Piobaireachd
1. Sandy Cameron – The Red Speckled Bull
2. Brian Lamond (pictured) – MacKintosh's Lament
3. Greig Wilson – Clan Campbell's Gathering 
4. Ben Mulhearn – The King's Taxes
---
[wds id="2″]
---
Open March, Strathspey & Reel
1. Brian Lamond – Hugh Alexander Low of Tiree/ Shepherd's Crook/The Flagon
2. Lachie Dick – David Ross/Arniston Castle/Grey Bob
3. Sandy Cameron – John MacColl's March to Kilbowie Cottage/Piper's Bonnet/Miss Proud
4. Greig Wilson – Duke of Roxburgh's Farewell to the Blackmount Forest/ Bob of Fettercairn/Cockerel in the Creel
Open Hornpipe & Jig
1. Brian Lamond – The Streaker/Cutting Bracken
2. Calum Wynd – Arthur Gillies/Turf Lodge
3. Lachie Dick – Pipe Major George S Allan/The Curlew
4. Sandy Cameron – Tam Bain's Lum/Donald Cameron's Powder Horn
Juveniles
Slow Air
1. Archie Clark
2. Bobby Allen
3. Lexie MacCappin
4. Euan Allen
March
1. Bobby Allen
2. Archie Clark
3. Euan Allen
4. Lexie MacCappin
All events were judged by Roderick Livingstone & Neill Mulvie. 
---
[wds id="8″]