By Robert Wallace
Whilst editor of the Piping Times I ran a very interesting story concerning the tragic tale of John Archie MacAskill. John Archie, a former piper with the City of Glasgow Police Pipe Band and a Gaelic poet and bard, hailed from the island of Berneray in the Outer Hebrides.
Born in 1894, he left his native island aged 16 to join the Cameron Highlanders. Lying about his age, he fought through WW1 and many times piped his comrades into battle. But he was one of the lucky ones – he survived. At the end of hostilities he joined the police and won the World Championship at Cowal. Like many a veteran, John, who never married, could not settle. He decided to emigrate to Western Australia.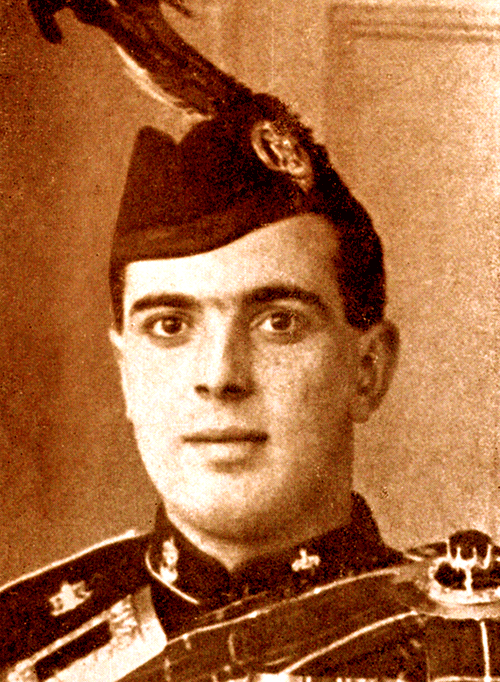 The British Government was offering subsidies to servicemen who wanted to start a new life overseas in what was then part of the Empire. In the beginning John's 500 acre farm near Perth was a success and Archie was no slouch when it came to hard work. Unfortunately the Great Depression hit. Wheat prices collapsed. John could not repay his loans. The British government ended subsidies. His farm failed.
Forced into work as an odd-job man, his life deteriorated, illness pervaded and in 1934 he died in hospital aged only 36. His last poems tell of his pining for the homeland he would never see again. He was buried in an unmarked grave paid for by the local authority. The Bard of Berneray was no more.
The first his parents knew of his death was when a letter bearing an Australian postmark arrived on Berneray telling them he had died and was buried in a pauper's grave. In the envelope were John Archie's sole possessions: a fountain pen and a button.
---
[wds id="2″]
---
John Archie was the uncle of Dr John MacAskill, the Gold Medallist and larger than life Glasgow man whose antecedents hailed from Berneray, and where he spent all his summer holidays. In 1983 when Dr John was in Perth conducting a piping class he resolved to place a headstone, at his own expense, at John Archie's resting place, perviously only marked with an iron number.
A few years later Dr John heard that his friend John Burgess was to do a recital tour taking in Western Australia. He asked him to play a tune at his relative's graveside. John was more than happy to comply.
That, however, was not the end of the story. Reading of John Archie's sorry tale his surviving family determined to bring him home.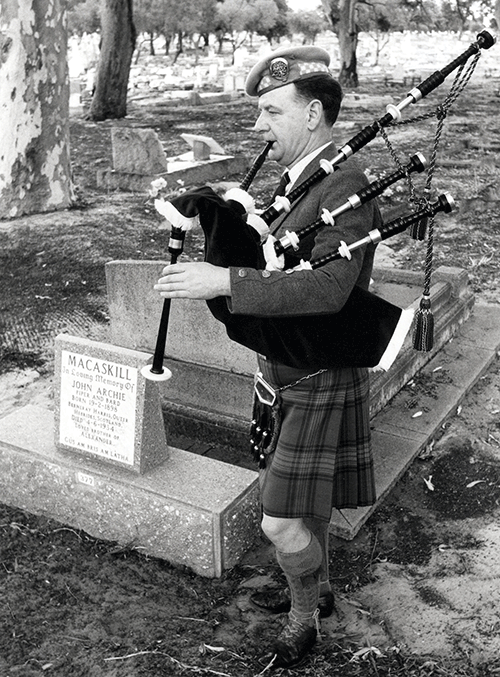 Dr John had himself by this time passed away but his neice Alina MacAskill (Lexie's daughter) contacted me and explained their plans. I gave what help I could and the family managed to raise the necessary cash. With the co-operation of the authorities at Karrakatta Cemetery outside Perth the body was exhumed, placed in a new coffin and flown back to Scotland. John Archie MacAskill now rests in peace on his native island.
When I was in Adelaide earlier this year I met the man who played a leading role in making this happen. Peter MacLean has since been in touch with further information and newspaper cuttings telling of how this touching story was reported in the local press in Western Australia.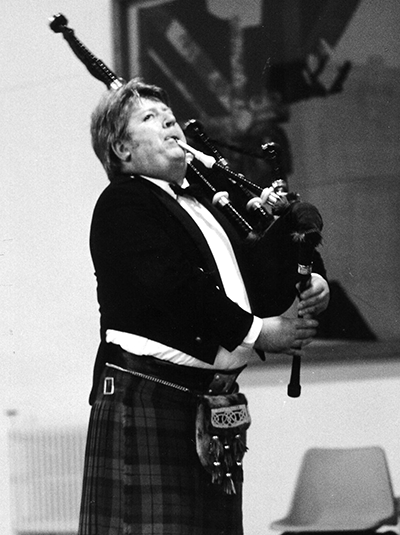 Said Peter: 'As promised I attach some further information on John Archie MacAskill. I have kept hard copies of your excellent coverage in Vol 61 No 12 and Vol 62 No 2 of the Piping Times.
'Attached is the front cover article from Post Newspaper March 13, 2010. This is the major community newspaper in the western suburbs of Perth.
'I was present at the very moving ceremony at Karrakatta Cemetery, having had close liaison with Alina in the lead up and subsequently. At the time I was CEO of the Metropolitan Cemeteries Board with responsibilty for all Perth's cemeteries and crematoria.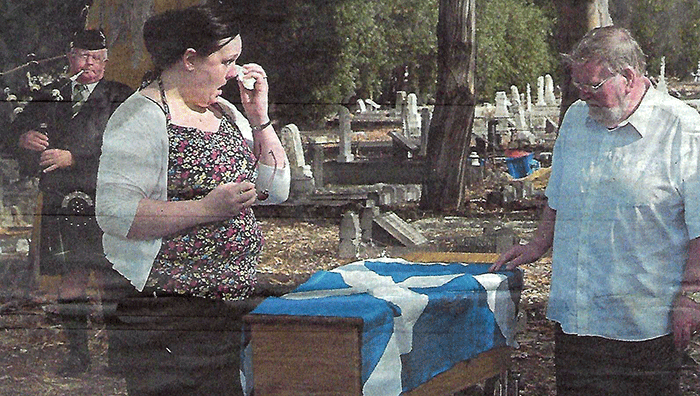 'I also had personal interest as my father migrated to WA from Knockaird , Port of Ness, Isle of Lewis, and I am fairly sure had met John Archie as the Gaelic speakers had a strong network then, many of them attracted to our state by work and land offers post WW1.
'My Board resolved to honour the link between Karrakatta and the Cemetery at Berneray, Harris, by donating an Admiralty Bronze plaque to be placed at John Archie's final resting place.

'I have attached a copy of the proof for this memorial. It incorporates a photo image of the headstone (arranged by Dr John ) which remains on his original burial place.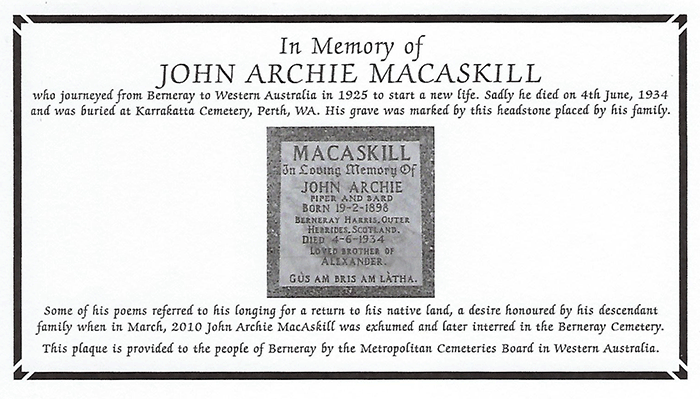 'So there we have a little update. I lost contact with Alina but
understand all went according to the family wishes in Berneray.
'A little additional related info. In Vol 62 you published a photo of Dr John MacAskill teaching at a workshop south of Perth in 1983.

'This was conducted over a few days and I have never seen such a significant outcome before or since from such a limited time event. The influence of Dr John was such that most in that circle continued their dedication to piping.
'One is our son Malcolm who has been for many years a playing officer in Perth Highland Pipe Band and is current Pipe Major. Another is Craig Bailey who is the Bandmaster at Scotch College in Perth.'
---
[wds id="8″]