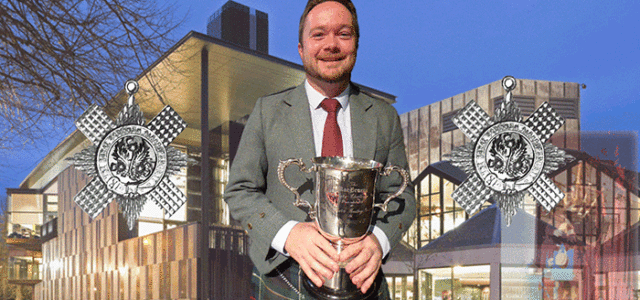 The first qualifier for next year's Silver Medal competitions at Oban and Inverness has been won by Alex Gandy from Nova Scotia.
Alex now has automatic entry to both 2020 competitions. The contest was held as part of the annual Metro Cup competition held at Newark, New Jersey, on Friday 15th February with many pipers flying in from around North America and some from Scotland to compete.
Alex is pictured above after winning the Former Winners' MSR at last year's Northern Meeting at Inverness.
The new Silver Medal qualifying system is promoted by the Competing Pipers' Association with the agreement of the Northern Meeting and the Argyllshire Gathering.
Result:
1 Alex Gandy, Canada, Lament for the Viscount of Dundee
2 Ben McClamrock, USA, Lament for Captain MacDougall
3 Ben Duncan, Army School of Piping, MacDougall's Gathering
4 Ursa Beckford, USA, Lament for Donald Duaghal MacKay
5 Dan Lyden, USA, End of the Great Bridge
6 Teddy Krogh, USA, Earl of Seaforth's Salute
Read more about the new Silver Medal qualifying system here. More results from the Metro Cup as we receive them.
---
[wds id="2″]