This annual invitational competition was held in Campbeltown today (Sept. 15). It is sponsored by the local Springbank Distillery. Seven pipers played (pictured below). They were Alasdair Henderson, Callum Beaumont, Finlay Johnston, Roderick MacLeod, William McCallum, Gordon McCready and Cameron MacDougall. Chosen tunes from submitted lists were issued one week in advance.
Piobaireachd
1 Roderick MacLeod, Lament for MacSwan of Roaig
2 Callum Beaumont, Mrs Smith's Salute
3 Gordon McCready, Lady Margaret MacDonald's Salute
4 Alasdair Henderson, War or Peace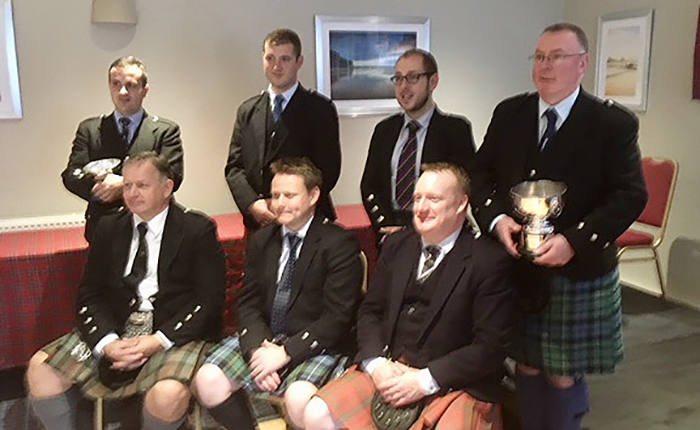 MSR
1 William McCallum, Captain Campbell of Drum A Voisk  &  Murdo MacLeod/ Dora MacLeod  &  Lady MacKenzie of Gairloch/ Roddy MacDonald's Fancy  &  Lt. Col. DJS Murray
2 Finlay Johnston, John MacColl's March to Kilbowie Cottage & Hugh Alexander Low of Tiree/ Cat Lodge & Caber Feidh/ Thompson's Dirk  & Rejected Suitor
3 Callum Beaumont, Glengarry Gathering & Mrs John MacColl/ Top of Craigvenow & Cameronian Rant/ Fiona MacLeod & Cockerel in the Creel
4 Alasdair Henderson, Donald MacLellan of Rothesay & Duke of Roxburgh's Farewell to the Blackmount Forrest/ Caledonian Society of London & Glentruim/ Mrs MacPherson of Inveran & Drumlithie
---
Stuart Easton NZ won the Oban Gold Medal Playing….
---
6/8 March
1 Gordon McCready
2 Callum Beaumont
3 Roderick MacLeod
4 Alasdair Henderson
H&J
1 Gordon McCready
2 Finlay Johnston
3 Cameron MacDougall
4 William McCallum
Judges: I Duncan, M Henderson, J Wilson
---
[wds id="2″]