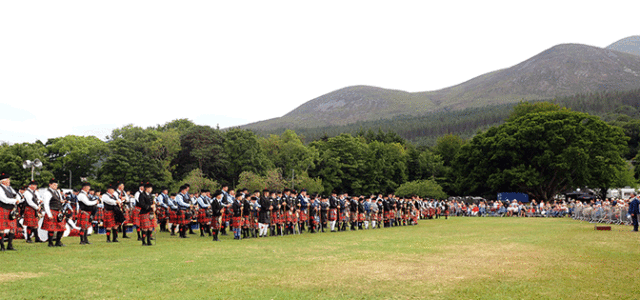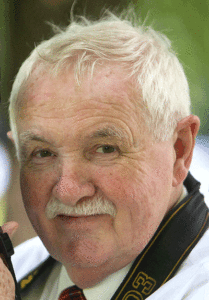 After a break of seven years pipe band contests returned to the seaside town of Newcastle, County Down, when 38 bands and 45 drum majors descended on the town to compete for the Ulster Champion title at Donard Park on Saturday 21st July.  A Highland dancing competition held in a large marquee added to the Scottish flavour of the day in Newcastle. The Chieftain of the Gathering was Councillor Mark Murnin, Chairperson of Newry, Mourne and Down District Council, who also distributed the prizes.
The McDonald Academy Pipe Band from Dromore, under the direction of Pipe Major Alan Gourley, made their competition debut: the band was formed in 2017 to aid with the progression into the main band.
During the finale, Piper Glen Baxter (Police Service of Northern Ireland Pipe Band) played a lament in memory of all that had passed away since the last Ulster Championships. 
Prior to the lament, Winston Pinkerton, President of the Royal Scottish Pipe Band Association Northern Ireland Branch (RSPBANI) read a letter from the Capper family expressing thanks to Battlehill Pipe Band for their support to the family following Philip Capper's recent tragic death.
Following the finale and prizegiving the bands and drum majors went on a spectacular street parade through the town returning to Donard Park along the promenade.
Full results by Gilbert Cromie:
Grade 1: 1st PSNI [also Best MSR, Medley, Pipes, Drums Bass Section and M&D],
Grade 2: 1st Closkelt [also Best Pipes], 2nd Ravara [also Best Bass Section and M&D], 3rdManorcunningham, 4th New Ross & District [also Best Drums].
Grade 3A: 1st Marlacoo & District [also Best Pipes], 2nd Drumlough, 3rd Quinn Memorial [also Best Bass Section], 4th Upper Crossgare, Best Drums Thiepval Memorial. Best M&D: Matt Boyd Memorial.
Grade 3B: 1st St. Mary's Derrytrasna [Best Pipes shared], 2nd Battlehill [Best Pipes shared and M&D], 3rdMajor Sinclair Memorial, 4th Clogher & District. Best Drums: Tullylagan [also Best Bass Section].
Grade 4A: 1st McNeillstown [also Best Pipes and Drums], 2nd Kildoag, 3rd McDonald Memorial [also M&D], 4th Cullybackey. Best Bass Section: Lisnamulligan.
Grade 4B: 1st Gransha [also Best Pipes, Drums and Bass Section], 2nd Sgt Walker Memorial, 3rd Broughshane & District, 4th Ballyboley, 5th Major Sinclair Memorial [Best M&D].
Drum Majors: Senior: 1st Andrea McKeown, 2nd David Brownleee, 3rd Lauren Hanna, 4th Alicia Dickson, 5th Emma Barr.
Juvenile: 1st Rachel Lowry, 2nd Kathryn. McKeown, 3rd Kara Gilmour, 4th Lana Gibson, 5th Emily Crooks.
Junior: 1st Charlotte Ruddock, 2nd Abigail Wenlock, 3rd Louis Anderson, 4th Kathy Hunter, 5th Zara Cupples.
Novice: 1st Louise Smiton, 2ndCarys Graham, 3rd Mia Buckley, 4th Ben Dickson, 5th Harry Mills.
Picture Gallery: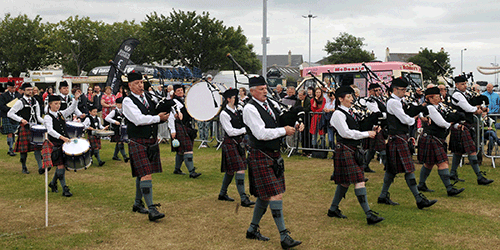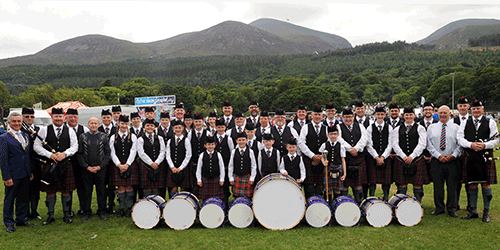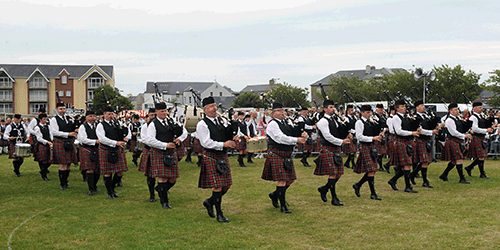 ---
FOLLOW US ON TWITTER @PIPINGPRESS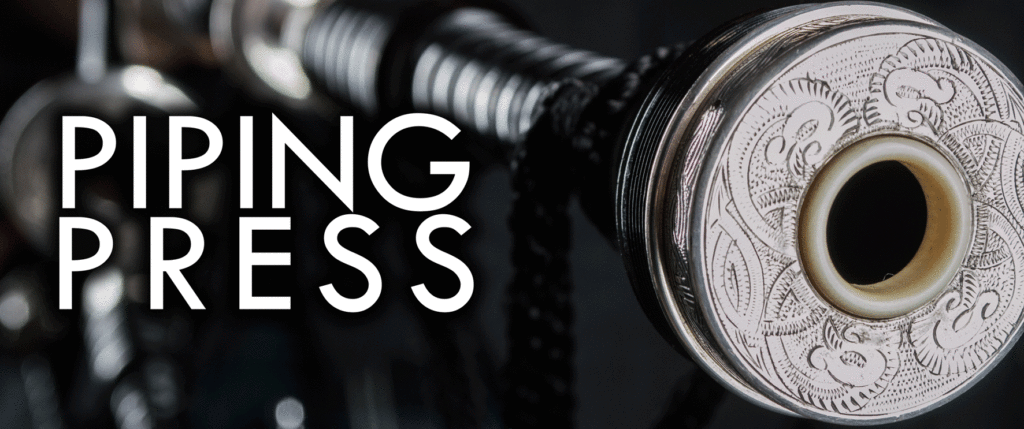 FOLLOW US ON TWITTER @PIPINGPRESS
---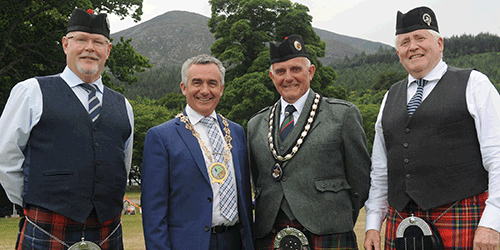 ---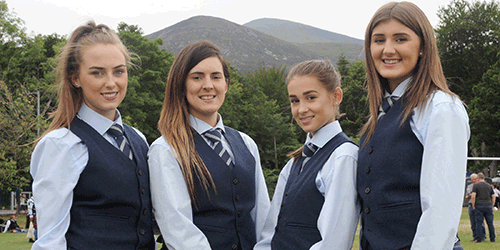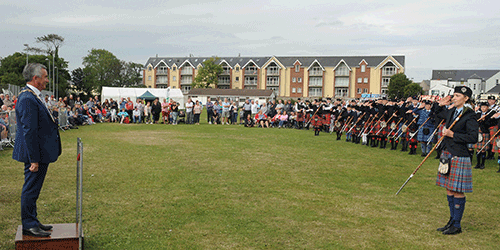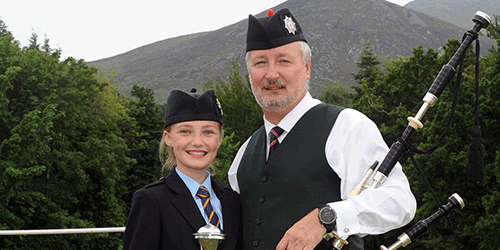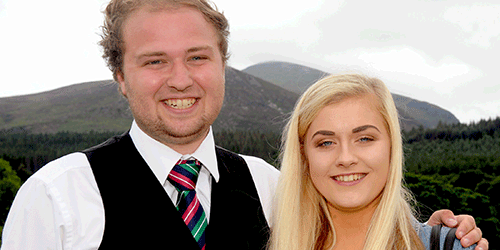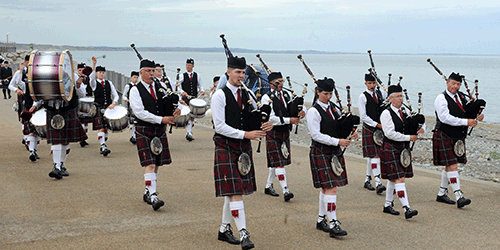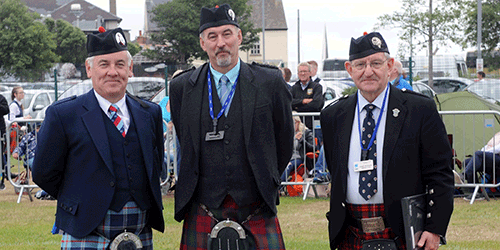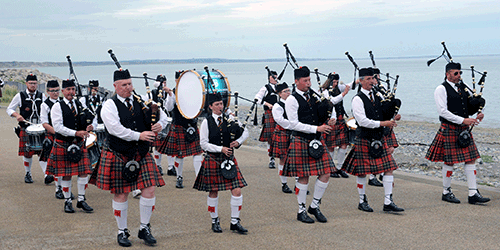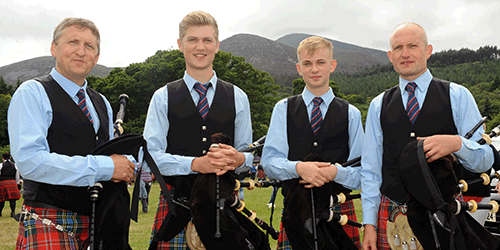 ---
[wds id="2″]