Congratulations to North Lanarkshire Schools on being named Pipe Band of the Year at the Scottish Traditional Music Awards in Dundee at the weekend. It caps a great year for P/M Ross Cowan and his band coming as it does on top of their success at the Worlds in Novice A. They also continue to make an impression in junior solo contests with NLS pipers taking good prizes at Shotts last Saturday.
This band and the their senior counterparts at Shotts & Dykehead are doing a great job of re-establishing this part of Scotland as a centre of world piping and drumming. If we look back over time, the area was once the industrial heartland of the country and midst the grime were spawned bands scores of bands. They were to be the driving force of our post-war pipe band movement with Alex Duthart and the McAllister family central to that effort.
Commiseration to the two other bands that were in contention for the Pipe Band of the Year title, Fife Police and Johnstone. Fife and P/M Douglas Murray can console themselves with the fact that the band reached the highest point in its existence this year. Sixth in the Worlds is not to be sniffed at and bodes well for the band's future.
Johnstone were first in Grade 2 at the Worlds, though bested by PSNI elsewhere, and overall had a great season. They have now earned the right to play in Grade 1. I am sure they and the other newly promoted G2 bands, Buchan Peterson and the PSNI, will not disgrace themselves. That said, going in against the big guns will be a  whole lot different than 2016. The standard is so much higher in every department. But taking Fife as an example, if you continue to nibble away producing  consistently good performances, you can crack the top six. After that, who knows?[wds id="6″]
---
Alex Duncan, Chief Executive of the Scottish Schools Pipe Band Trust, has sent this: 'A youth pipe band committee based in central Edinburgh seeks an inspirational and professional piping instructor to teach in three primary schools and a secondary school approximately 12 hours per week during school time. The instructor will also develop a youth pipe band that will perform in local schools and the community, and take part in competitions. Competitive hourly rates. Please send your CV and a covering letter to info@sspdt.org.uk by 15th December. Interviews will take place after the school day on 19th December. The successful candidate must be able to start work in January.'
---
Reader George Barlow has written, 'Thought this might be of interest for your column as he is the only military piper in Vegas and gives the ladies something to shoot for':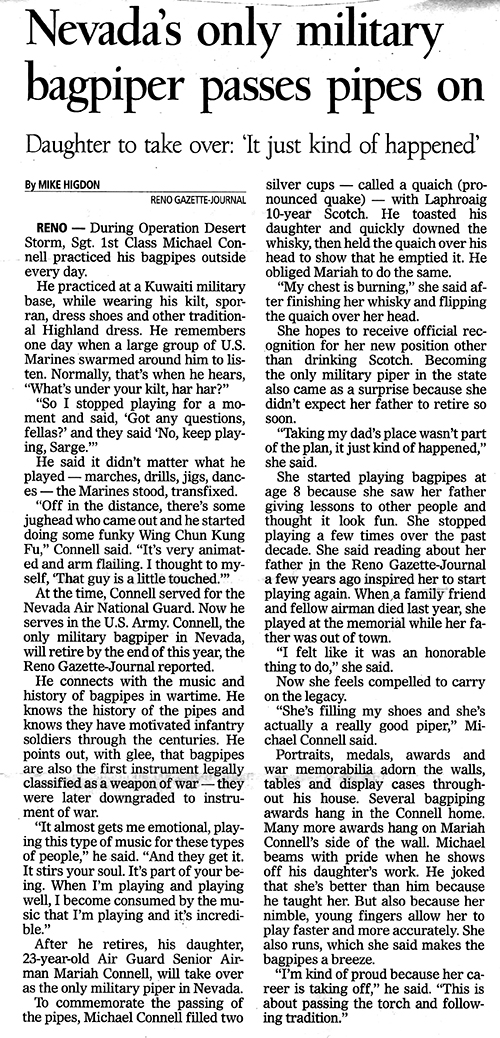 ---
Re P/M Robert Pinkman, Donald McBride in Kansas has sent this: 'I knew Robert Pinkman of the KOSB but only to say hello to. I knew Archie and Bobby better. Robert was quiet and polite. I do remember him getting third I think in the first Silver Medal at Inverness in 1977, playing Queen Anne's Lament. Sir Patrick Grant got fourth with the Battle of Auldearn, and Robert Barnes, Kelty, was first.'
Donald also attached some photographs of the Muirhead & Sons Pipe Band under P/M Robert Hardie including the historic shot up top. It shows P/M Hardie leading the band from the field at Oban in 1967 after winning his second Worlds title. Holding the trophy is band secretary Lawrence Jenkins. Next to P/M Hardie is, I think, piper Jim Dow. Behind the P/M is Gordon Fergusson now in Australia. To Lawrence's right is the sadly missed Dougie Elmslie. Pipe Sgt. is Andra Dowie and behind him is, I think, John Finlay.  Any further names gratefully received. The band was to go on to win the Worlds Grade 1 title three more years in succession completing five in all – still a record for a civilian band. Hard to believe that this pic was taken just short of half a century ago!
I was at Oban that day with my BB band but can't remember a lot about it other than I think we won the Juvenile grade and after playing some of us went down the town and sneaked into the fisherman's refuge place for something to eat. It used to be at the end of one of the piers and today is, I believe, a nice restaurant.
If anyone else would like to share memories of the Worlds '67 please pass on.