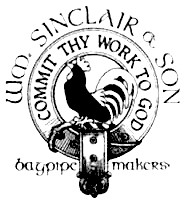 Mentioning Duncan Campbell as one of the old school of Scottish bagpipe makers  reminded me of a visit to Edinburgh a few weeks ago when I was able to call in to the Wm Sinclair workshop in Leith. In all my piping years I'd never been before and it was a pleasure to meet Alastair Sinclair, the present proprietor, a master craftsmen who is carrying on the fine tradition of his father and grandfather.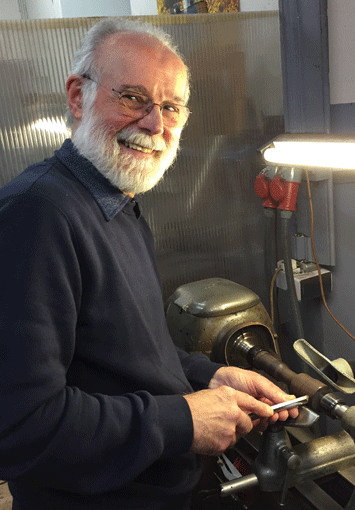 Modest to a fault, Alastair quietly works away producing beautiful hand-crafted instruments and chanters. In my early day the Sinclair chanter was THE pipe band chanter and I think several of the top bands still play them today, though I am not sure how many.
The chanter was played by the Shotts band in the early years of their success and 'Pa' Sinclair worked closely with the MacAllister family on developing their reed to suit the chanter. It was the Sinclair chanter that was played throughout the glory years of Strathclyde Police under
P/M Ian McLellan
– and MacAllister reeds that Ian used too.
Thank you Alastair for showing me round and sharing some of your expertise.
---
Dr. Stephen Rooklidge: 'Could you let your US readers know about a scholarship opportunity?  Any K-12th grade student, eligible to receive a set of renovated bagpipes and maintenance items, may submit their scholarship application materials at the website link below.  We've recently awarded a good set of used pipes to a young man who plays in his school band but had no pipes of his own. We are holding a prize pipe competition fundraiser this April in Redding, California to enhance the scholarship, and hope the local community steps forward for a good cause while enjoying an evening of piobaireachd played by a wide variety of amateur players. Thanks for this.  All the best. Steve
Dr. Stephen Rooklidge, Shasta Piping Society
, 
P.O. Box 1620
, 
Cottonwood, CA  96022
https://sites.google.com/site/shastapipingsociety/

www.facebook.com/shastapipingsociety
---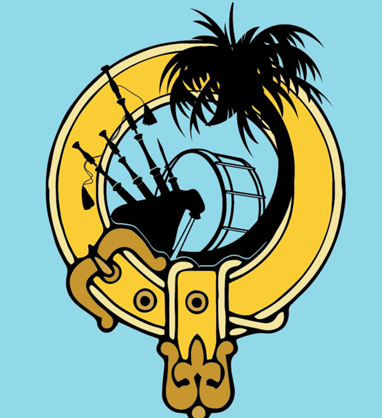 Still in the US, Noah Morrissette of the South Florida Pipe & Drum Academy has sent this: 'When you registered online, it was not obvious how to pay for the Academy.  We apologize, and we have made it MUCH more obvious. If you were planning on attending, please visit the registration page, and go to the bottom where it says, 'Register Here' and click on the instrument you will be playing at the Academy, then 'add to cart', 'view cart', and checkout. Once again, I apologize for any confusion this may have led to. Thank you, Noah.'
---
Reader Aad Boode has written re Alasdair Gillies and P/Ms of the Queen's Own Highlanders. Check out his letter here.
---

Alasdair's mention of the Northern Meeting had me looking through some old programmes.
The Clan Sponsor that year was Clan Fraser and their Chief, Lord Lovat, had this message in the programme. Interesting that he mentions both the
78th Frasers
pipe band and also
SFU
:
'Clan Fraser has its share of pride in great traditions. Today in a changing world I salute our pipers – both young and old – past or present in many lands where Highlanders have the opportunity to get together and finger a chanter or compete at a local gathering. Having served in the Army my admiration for great players has a collective ring! By this I mean that a respect for a band is also included rather than confining all praise to an outstanding winner of a gold medal. But I will settle for one old friend whose achievements seem unique: Gaeldom surely owes him a debt of gratitude. I refer to the late Pipe Major Willie Ross – Scots Guards and Lovat Scouts – the man who did so much during the war to raise high standards in the Army School of Piping on the Castle Rock in Edinburgh. Born and bred on the Lovat Estate in Glen Strathfarrar, Willie won all the great awards and could compose pipe music as well as he played it. One of his many tunes 'Far Over Struy' remains a regimental favourite when a Scots Guard piper sounds retreat as darkness falls over barracks or bivouac. But I must not dwell on the past.
'In recent years the World Pipe Band Competition, open to civilians, has become an important annual event with enormous attendance figures. It may not meet with everybody's approval but I am happy to say that here the Clan has done good work, for the 78th Fraser Highlanders from Toronto have recently distinguished themselves both as winners and again as runners-up in Glasgow, while the Simon Fraser University Pipe Band – all young players from Vancouver BC, have also shown that Canada can find pipers who rank with the best against all comers from home or abroad. At the risk of repeating myself, the message is 'Learn to play the pipes!' 
---
Wannabe  a piping or drumming snowbird?…then  catch some heat at the South Florida Pipe & Drum Academy![wds id="3″]