Robert Wallace writes: Erudite and interesting I said; erudite and interesting it was. In the third of his lectures about WW1 and its pipe music, author Colin Campbell succeeded yet again in adding life and colour to what to most pipers are mere names at the top of a pipe music score. Who was Captain Lumsden or CM Usher or John S MacMurchie DCM MM? Last weekend Mr Campbell gave us the details, and kept the respectably sized crowd gripped with the stories of the heroism and honour that inspired the tunes.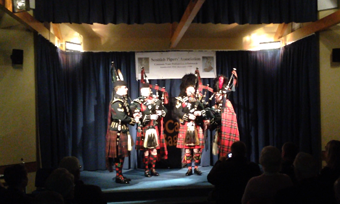 The format of the evening is that the author speaks and the pipers play. It works well. The first section of the concert/lecture began with a quartet from the Army School of Piping represented by Corporals Grant (The Highlanders, and acting pipe major), Bruce (Royal Scots Dragoon Guards) MacLean (Royal Highland Fusiliers) and Muir (Black Watch). Well set up, with chanters nicely pitched, they played a selection of favourites all associated with the Gordon Highlanders and the Black Watch, the evening's regimental themes. First up we had the  Blue Bonnets, Atholl Highlanders, Lord Alexander Kennedy and the Brown Haired Maid. In full number one kit and perfectly turned out, they strode into the hall playing as a well drilled unit. Even the most pernickity of military men would have been impressed by their marching and deportment.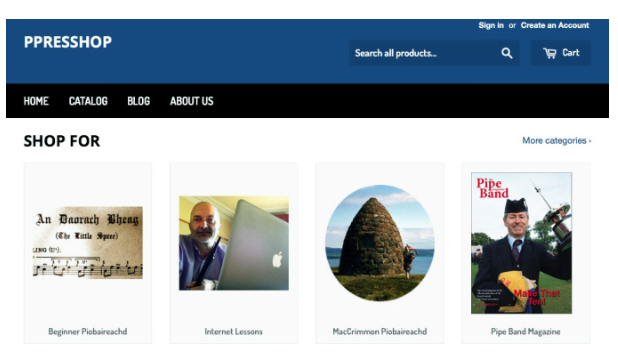 Someone mentioned that a couple of them played with the blowsticks in the side of the mouth. Whilst this can be unsightly, for many pipers it is a question of dental imperative, and on this occasion it was of very minor importance.
Mr Campbell explained how regimental, and even battalion, rivalry and pride could spur men on to great deeds. There was none of that on show here; harmony, musical and social, all the way. Click the links to watch a couple of short videos of the Army pipers who, incidentally, are all currently on the Pipe Major's Course at Inchdrewer House.
IMG_2216 IMG_2217
[easyrotator]erc_9_1417192041[/easyrotator]First of the solo spots was by big Donald MacPhee, and shouldering his FMM pipe (former), he treated us to excellent finger work, a good pipe, lively tempi and additional information about some of the tunes. In a nice touch Donald acknowledged the presence of seven of the family of P/M Dan MacLeod who featured in his tune list. It comprised 3rd Batt, Dundee Home Guard, Sgt. JS McMurchie DCM MM, Lt Allan's Wedding, Black Watch Welcome to Nigg, Red Hackle (march and strathspey), Black Watch Reel, John MacColl's Farewell to the Scottish Horse, P/M George Ackroyd, Capt. GCS MacLeod, Clan MacRae Society and the Black Watch Polka.  Donald left the stage to well deserved applause.
The interval, the bar doing a healthy trade (at least among those not driving; the new, lower breath test limit is being taken very seriously here) and on with the music.
The Army boys kicked off the second half in fine style with Cock o' the North then took us through the 92nd Quickstep, Marquis of Huntly, Reel of Tulloch and A Man's a Man before marching out to the Gordon's March.[easyrotator]erc_14_1414056032[/easyrotator]I then did my bit playing five sets: Kitchener's Army, Capt. CR Lumsden, Trooping the Colour, When the Boys Come Home Again, Col. Horton, Major CM Usher (as M, S and R), Capt. T McWhirter MC, Major John MacLennan, the Unknown Warrior and Col. Robert Bruce DSO. I must confess that getting these tunes off took a fair bit of memory work. Not all GS's tunes are masterpieces, and the melody in Kitchener's Army for one, doesn't seem to follow where you expect it go. This is not always a bad thing; think fourth part of Charles Edward Hope de Vere. It works when the melody is strong. CM Usher's reel, by James Robertson, Banff, is a good tune and I quite enjoyed playing GS's Unknown Soldier, though I confess to altering the gracing here and there. I finished with Col Robert Bruce DSO, a lively march that could do as an intro tune for Grade 3 or 4 bands.
This whole endeavour by the Scottish Pipers' Association has to be rated a considerable achievement. The sum total of our knowledge has been increased as a result of this National Lottery sponsored project. Tunes possibly never before heard by this or the previous generation have been aired.
Many well known figures in the piping world were present and added status to the evening: P/M Ian McLellan and his wife May, Andrew Wright and Isabel, a contingent from the Royal Scottish Pipers' Society led by Andrew Frater and Dave Watson, and professional competing piper Rory Grossart, to name a few.
At the end Hugh Anderson, SPA Vice President, thanked everyone for attending and announced that the next lecture/concert would be on April 18 next year when the pipers will be Iain Speirs and Niall Stewart plus a quartet from the UK military's Joint Cadet Force. Regimental music to be played will all be associated with the Seaforth and Cameron Highlanders. This will be an evening not to be missed. Admission free.