'The Royal Scottish Pipe Band Association's board awarded the right to host The Worlds to Glasgow for a further six years at a meeting on Saturday November 15. Glasgow's winning bid fought off stiff competition from Belfast to retain The Worlds. The event is organised on behalf of the RSPBA by Glasgow Life and is supported by Glasgow City Marketing Bureau and Event Scotland.
[easyrotator]erc_14_1414056032[/easyrotator]'The competition features bands from all over the world playing in eight different grades with the ultimate winners being declared after two days of competition. The current World Champions are Northern Ireland's Field Marshal Montgomery Pipe Band which has won for the last four years.
'As well as being the premier Pipe Band competition, The Worlds is also host to Highland Dancing, a Highland Games and a specialist food village which combine to make a visit to the event unforgettable.
'Councillor Gordon Matheson, Leader of Glasgow City Council and Chair of Glasgow City Marketing Bureau said: 'We are delighted to have won the coveted World Pipe Band Championships for a further six years. Glasgow is Scotland's cultural powerhouse and this uniquely Scottish event is one of the cornerstones of the city's events calendar. We are looking forward to welcoming pipers, drummers, band supporters and spectators from across the world every bit as much as they are looking forward to coming here and to showing them everything Glasgow has to offer.'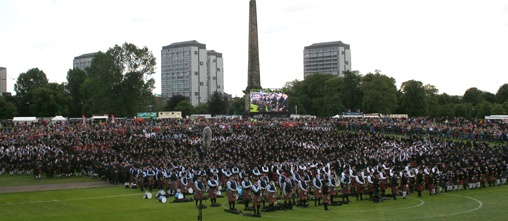 'Ian Embelton, Chief Executive of the RSPBA said: 'We were delighted to have received an outstanding bid from Glasgow to be host city for the World Pipe Band Championships once again. Our partnership with Glasgow stretches back decades and the event has grown and developed as a result of that relationship. There is nothing quite like the sights and sounds on Glasgow Green during The Worlds and we look forward to welcoming bands there for the foreseeable future."
'Paul Bush OBE, Chief Operating Officer for EventScotland, said: 'Scotland is the perfect stage for events and we have consistently proven that Glasgow is the natural home for the World Pipe Band Championships. The event continues to develop and grow, while attracting thousands of visitors every year. As an event the World Pipe Band Championships celebrates and showcases Scotland's creative culture and heritage, while delivering a significant economic impact through event tourism.'
'For more information about The Worlds, please go to www.theworlds.co.uk.'
Robert Wallace writes: This has to be a good decision for the pipe band movement. Glasgow has become synonymous  with the Worlds. Not only that: it works. Plenty of space, accommodation, transport links, good pubs and restaurants, free luggage trolleys at the airport, good patter, humour, lousy weather, a sense of belonging, the idea that if you fell down in the street someone would help you. Belfast, too, has all of these things, but the home of the bagpipe is Scotland. It is only natural that the apogee of the pipe band endeavour is held in its biggest city. I suspect that deep down pipe bands people, even those in Northern Ireland, are pleased at this decision. The fit is perfect: Glasgow and the Worlds, golf and St Andrews, tennis and Wimbledon, good journalism and pipingpress.com; peas in a pod.